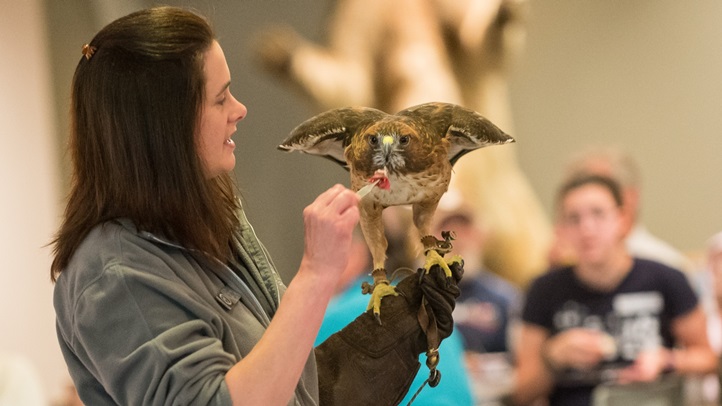 SINKING YOUR TEETH INTO TOAST... or eating your eggs or noshing on your yogurt while in the presence of some sort of animalia isn't unheard of. In fact, we'll go out on a very short, highly uncontroversial limb and say that if you eat breakfast, as you should, and you live with a dog or a cat or a parakeet, it is very likely that your furry or beaked pal is somewhere nearby as you slurp that bowl of cereal. Perhaps your pup enjoys a lick of the peanut butter spoon, perhaps your cat gets a few lick-ups of milk, but your beastie is with you at breakfast time. What's a little more unusual, although not totally, is savoring that first meal of the day near birds of prey. Maybe when you're camping, yes, but it is quite likely that any falcons are a fair distance away from your tent.
WHICH MAKES... the Breakfast with the Animals happening at the Lindsay Wildlife Experience all the more thrilling. It's flapping its wings on Saturday morning, Sept. 19, and there shall be breakfasting, both of the human and the falcon sort. Humans will stick to the human-type eats, and the falcons? Well, the diet of these mighty winged creatures is a bit different. Learn all about what they consume, their fascinating habits and traits, and get an eyeful of a Peregrine Falcon, who happens to be "the newest addition" of the Walnut Creek-based animal center.
IT'S A MEMBERS-ONLY DEAL... but then we expect you might already support this institution, and visit often, given that it tends to creatures big and scaly and toothy and teeny in its Rehabilitation Hospital. You might see an owl's wing get set, or the paw of a fox receive needed treatment. Over 5,500 wild animals, both those who've been hurt and those who are on their own, receive care at Lindsay Wildlife each year, making it one of the most unique and heart-warming facilities in all of the state. It's worth backing, worth visiting, and if you want to break bread, at least in spirit, with a falcon, it is worth the membership. Need info? It's here. Need to do Breakfast with the Animals, once you secure membership? It's ten bucks for an adult, less for kids.
Copyright FREEL - NBC Local Media