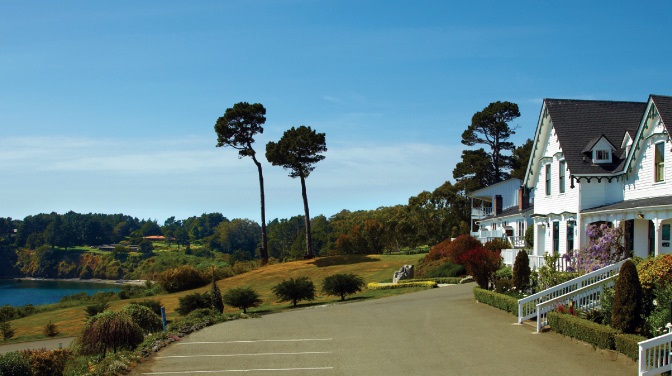 MAYBE YOUR CHEFLY FRIEND... just invited you over for a heaping, steamy, oh-so-creamy pot of stroganoff, the kind made not with beef but with chanterelles. Or perhaps your mom suggested you both go out for a vegan burrito, the kind that's lush with lovely vegetables, and slivers of tofu, and the all-important portabello chunks. But maybe in both cases you suggested another outing or pursuit, apologizing as you did so, because you're saving up all of your mushroom-based desires for one of the most "cap"-tivating food festivals on the California calendar. (We won't even explain that "cap" joke, and we won't feel embarrassed over it, either.) It's the...
MENDOCINO COUNTY... Mushroom, Wine and Beer Festival, a eat-and-stroll-and-socialize affair that's so large it takes up just about a third of November. (And that makes total sense, as mushrooms should take up at least a third of any dish, from burritos to stroganoff, being the savory stars they are.) Are you holding off on your mushroom-y favorites, all in anticipation of going hog — er, mushroom — wild in Gualala and Fort Bragg and points along the coast? Then consider staying for more than a night during the Nov. 4 through 13, 2016 shebang.
LITTLE RIVER INN... is one of the stay-over destinations with a special rate on during the fest, and its name? Why Mushroom Mania, of course. Rates start at $165 for an Ocean View Fireplace Room, and go from there, and in the restaurant? You'll discover dishes that make the fungi of the moment the major star. That $165 rate, by the by, is a $30 savings, so hop to it, or discover all of the lodging specials that are springing up, like so many porcini, around the county during the early November festivities. And, really, if you want a mushroom pasta before making for Mendo, have it. You don't need to stave off the deliciousness, all for anticipation's sake. But start anticipating, because the food, and the art, and the libations, and the foraging treks are all as major as a stroganoff boasting an extra heaping helping of mushroom goodness.
Copyright FREEL - NBC Local Media