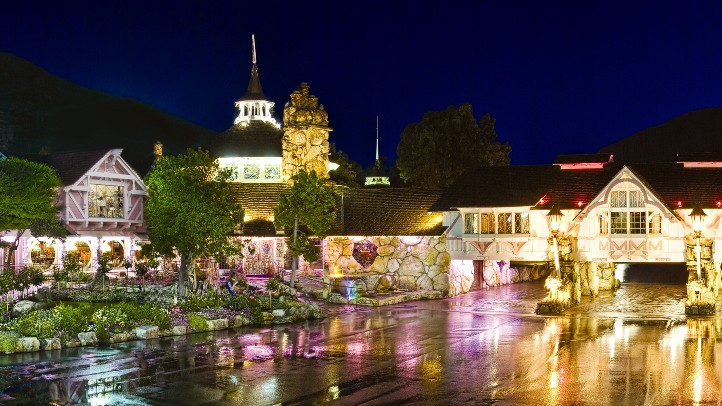 CAVEMAN, AND THEN THE REST: Hotel rooms, the workaday weekaday traveler might tell you, are a dime a dozen (or, more accurately, about $148.99, plus tax and fees). Whether you subscribe to that idea of general uniformity or not, you have to be on board with this: There is only one Caveman Room in the world, full of rock and waterfalls and kitsch and zing, and it is in San Luis Obispo at the Madonna Inn. Oh, sure, other properties around the planet might do the rock wall thing, but the Caveman Room is nearly mythical in its relationship to romance and whimsy. And, yes, the themed 101-close getaway does have other rock-laden rooms, and rooms devoted to Romance -- including one called "Romance" -- but the Caveman is the quintessential canoodle palace. Good? Agreed? Yes. But the whole of the Madonna Inn is pretty special come Valentine's Day, and that's only partially because the on-site steakhouse is just about the pinkest restaurant in all of California. There are some February sweetheart packages afoot around the county, but let's first land on the theme wonderland.
THE RUSTIC ROMANCE PACKAGE: The Madonna Inn is offering this tony treat, which includes a "scenic horseback ride" (the inn and ponies go way back, but you probably know that). A $100 dining credit and more add to the starting-at-$847-and-change package.
SUITES FOR YOUR SWEET: In not-too-far-off Pismo Beach, there shall be Valentine's Day celebrating, too, in terms of packages. The deal at the Cliffs Resort & Marisol includes dessert in your oceanfront suite. Those are all the words we need to read to read further on this one.
Worth The Trip
COASTAL ROMANCE PACKAGE: The Blue Dolphin Inn of Cambria is throwing in a Wine Wrangler Tour of Paso Robles, along with some other Valentine's-style goodies. Getting out and doing -- and drinking some fine wine -- is always a nice thing come the Day o' Hearts. Want to know more now? Know more now.
Copyright FREEL - NBC Local Media