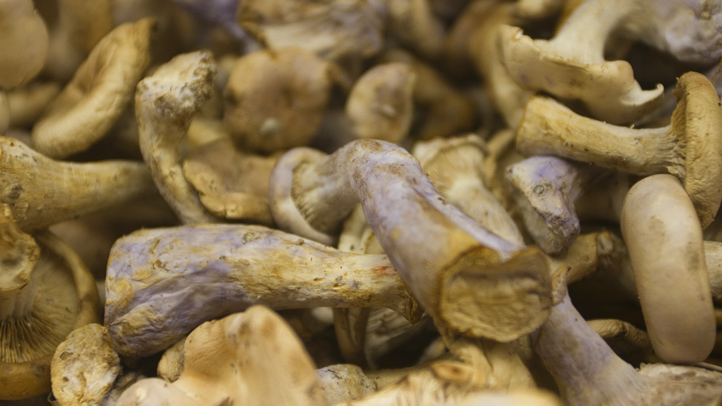 TEXTURE AND TASTE: Some edibles rock a texture, or mouth feel, if you prefer, that is so unusual, and so singular, that you don't even need to sense any flavor to know what you're eating. A walnut could absolutely qualify here, and perhaps sorbet, and a hundred other foods that arrive upon your tongue with enough physical presence that they're known for their crunch/smoothness alone. Then there are those foods that own the taste side of the equation, the chiles and chocolates and other flavor bigwigs, bigwigs that don't require mouth feel to telegraph what they are.
THE MUSHROOM... is one of those foodstuffs that rules the school on both sides of the texture/taste aisle. It is so mushroomy, when you bite down, its softness and pliability instantly give it away. And does anything in the world taste like a earthy, just-plucked cap? Nothing does. Perhaps that's one reason that the annual Mushroom Mardi Gras in Morgan Hill has been running for so long -- 37 years -- and why mushroom mavens keep returning for dishes made with the meatiest non-meat on the planet. The 2016 dates are...
MAY 28 AND 29, and the southern Santa Clara County town'll rock one of its big local products in multiple (and delicious) ways. It "can be tasted in soup, stuffed, sandwiched, deep-fried, marinated, over rice, and much more," so tell your taste buds to get excited. Other happenings, involving wine, and play area for kids, dessert vendors, and crafts are on the docket. Did you know Morgan Hill is "the Mushroom Capital of the Western United States"? Of course you did, because if you're into the whole taste/texture conversation, you know your mushroom stuff, cap to stem.
Copyright FREEL - NBC Local Media