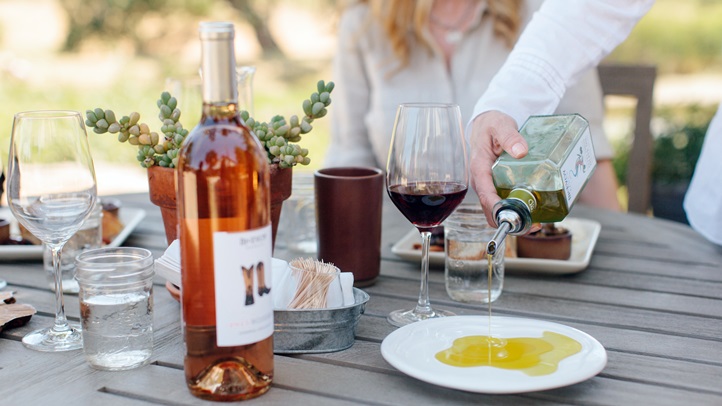 WHAT IS IT ABOUT SPRINGTIME... that makes us long to go outdoors and dine near trees and hills? We could craft a poem about this particular desire, or we could cut to the chase and state it plainly: The weather is growing warmer and it is lovely to be out in the fresh air. Still, though, basking in all of that sunshine and balminess, while sitting in the vicinity of trees and plants and glorious vistas, can be enhanced in a number of pleasing ways, with "wine tasting" and "olive oil tasting" at a "picturesque destination" pretty much topping that particular roster. It's a good thing that California has a few places to savor all of these elements — sunny skies, billowy clouds, nice vistas, olive oil, and vino — though finding your go-to spot, and the right date, is a must.
MCEVOY RANCH, the 550-acre spread just a pinch outside of Petaluma's heart, offers occasional public tours, walk-arounds that give olive oil aficionados a peek inside "one of the largest U.S. producers of estate-grown, certified organic extra virgin olive oil," with a tasting serving as the visit's crowning, taste bud-pleasing event. May 19, 2017 will be devoted to the theme of "Growing and Appreciating Great Olive Oil: From Orchard to Table," while "walkabout" tours focus on the sights and history of the ranch, rather than tastings.
EITHER WAY... you'll get some behind-the-scenes-y glances into a major olive oil destination, one that is set in a pretty stretch of serene, hilly country. Springtime tells us to go outside, and explore, and you can do that, either with a walk-around or an olive oil-devoted day, at the Marin County-based ranch. Want to see more to-dos at McEvoy? Lace up your hiking boots and tromp in this direction.
Copyright FREEL - NBC Local Media