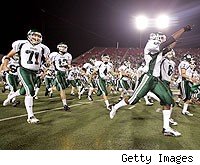 EYES PEELED: Monarch butterflies are some of the brightest stars of late fall and winter along our Central Coast. Thank the annual migration for the presence of millions of bright and fluttery insects, insects that regularly draw tourists to spots like Pismo Beach and Pacific Grove to check out the Monarch's famously beautiful tree-close clustering. (A word which absolutely captures how a kaleidoscope of butterflies looks when all grouped in one rather cozy spot.) But eyes stay on our colorful visitors not simply to admire them but to study the butterflies as well. Researchers and scientists and concerned citizens keep a watch, too, and with good reason; Monarchs are often in the news, as the number of migratory butterflies drops (as was the recent word in the New York Times). It's good to know that a number of California-based organizations keep tabs or a close eye on our flight-happy wintertime guests, including Cal Poly at San Luis Obispo and the Pacific Grove Museum of Natural History.
MORE THAN A CLOSE EYE, IN FACT: A number of butterflies were tagged in December and early in January. The tags include a phone number, so should you see a Monarch in your yard, or while you're out hiking or recreating, jot down the details and report your finding. This will aid researchers in collecting facts and such "regarding the spring migration." Easy? Helpful? Doing your part? Yes to all three.
AND IF YOU NEED YOUR MONARCH LOVE... before they bid us adieu for another year, check it: Pismo Beach Monarch Butterfly Grove will celebrate Western Monarch Day. Bet you'll see some clustering and a bunch of butterfly people, too, 'Tis the season for Monarching, and for keeping a weather eye on our winter visitors.
Copyright FREEL - NBC Local Media