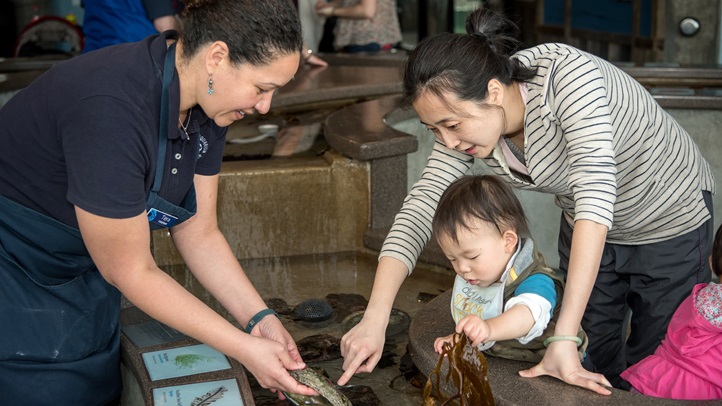 BUCKET LISTS... have never been a one-size-fits-all sort of thing. Desires run the gamut, depending on the bucket list in question, but one common feature is the chance to get closer to nature (and to lend wildlife a hand). Whether that's done on a giveback-themed vacation, or via a donation, or finally volunteering at a favorite animal park or aquarium is up to the keeper of the bucket list. And many a landlubber has one of the world's best-known aquariums somewhere on their roster, either as a place to one day work at or finally visit. It's the...
MONTEREY BAY AQUARIUM... we speak of, of course, a otter-lovely, sardine-spectacular destination that is as bucket-list-y as bucket-list-y bastions come. If you adore visiting the fish-filled spot, but find you want to do something a bit more when it comes to to this bay-beautiful repository of fabulous fishdom, you can: The aquarium is looking for volunteers.
"BE A VOICE FOR THE OCEAN!"... and sign on to "help care for sea critters" or even be a diver. "More than 1000 volunteers" play a vital part in many different departments and areas at the aquarium, if you're curious as to how sizable the volunteer brigade might be (yep, "sizable" works). Chatting with guests, and sharing your love and knowledge of our vibrant ocean and the beasties who call it home, is on the delightful volunteering docket, too, once you join an informational meeting and learn more about your role. Is something you can give some time to, now and then, in the months ahead? Can you be an advocate for the otters and seahorses and rays? Sign up and fulfill that bucket list wish, the one that has you devoting time, knowledge, and love to the beloved aquarium.
Copyright FREEL - NBC Local Media