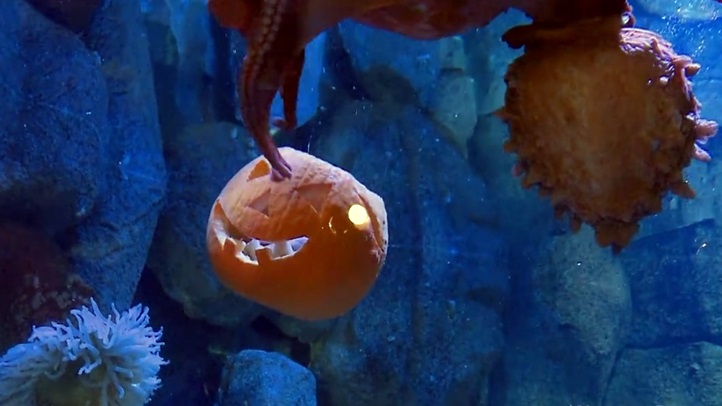 SUPERSTAR + SEASONAL SQUASH: To call the Giant Pacific Octopus a superstar of sorts is to not really go quite far enough in the fawning-over department. The many-of-limb, tentacled-of-body, wise-of-spirit cephalopod attracts a constant crowd of admirers at the Monterey Bay Aquarium, people eager to see every fluid move the beautiful creature makes. And the beautiful creature, like all octopuses, is intelligent and investigative, both, so when something new enters the area, that something new is going to get thoroughly explored pretty darn quickly.
WHICH IS EXACTLY WHAT HAPPENED... when staffers at the Cannery Row-based institution lowered a recently carved pumpkin into the curious critter's tank, just in time for Halloween. Video reveals that the giant seems hesitant at first, as if taking in this fresh object; after all, pumpkin patches do not spring up upon the ocean floor, regardless of what sci-fi or futurists suggest. But soon the octopus is all over the pumpkin, entering crevices and digging deeper into this wondrous round and orange thing. There are round things in the ocean, and the color of orange has been seen often, on both fish and coral, and as for crevices and holes? Well those are incredibly plentiful, too, beneath the waves. A pumpkin is a different thing for a cephalopod, and yet its disparate elements aren't unknown, totally, in the ocean.
WANT TO SEE... this curious Monterey resident say "what the..?" as the jack o'lantern is lowered into the tank? It's a charmer, and just another tick in the octopus intelligence column. Okay, we'll fawn: The Giant Pacific Octopus is as superstarry as superstars come.
Worth The Trip
(function(d, s, id) { var js, fjs = d.getElementsByTagName(s)[0]; if (d.getElementById(id)) return; js = d.createElement(s); js.id = id; js.src = "//connect.facebook.net/en_GB/sdk.js#xfbml=1&version=v2.3"; fjs.parentNode.insertBefore(js, fjs);}(document, 'script', 'facebook-jssdk'));
MINE! Octopuses are naturally very curious and like to explore things they've never seen before, so the cracks and crevices of this pumpkin made it the perfect Halloween treat for our giant Pacific octopus. Posted by Monterey Bay Aquarium on Saturday, 31 October 2015
Copyright FREEL - NBC Local Media