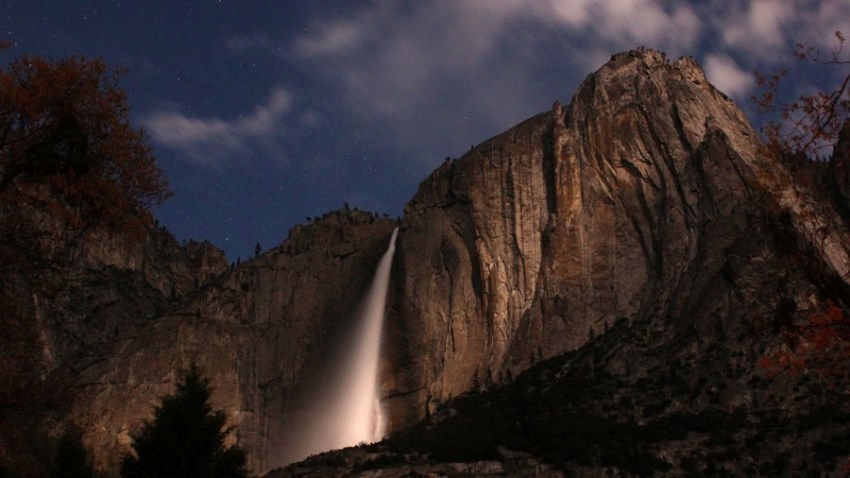 BEAUTIFUL WORDS? You can probably summon a dozen to mind, right now. Your list might include "petrichor" (that distinctive smell of earth and rain) or "ethereal" (a word that is, well, ethereal) or another line up of letters that is fun to say, gorgeous to hear, and represents something spectacular or memorable. And high on many lists, for many lovers of ideas, language, and interesting experiences, is "moonbow." You may have, in your time, used the word without ever actually seeing a nighttime rainbow-like phenomenon spring up, courtesy of a misty water source, but that might change on Sunday, May 19. For the...
YOSEMITE CONSERVANCY... is heading out into Yosemite Valley that evening, all to lead a Moonbow Photography adventure. Yes, "moonbow" is in the very name of the event, but it isn't merely whimsical window-dressing. Spring is "moonbow season," per the Yosemite-loving organization, thanks to all of that powerful waterfall action. The waterfalls, of course, churn something fierce, around the close, in the springtime, which makes this eveningtime outing possibly magical and certainly major.
A FEW SPOTS ARE LEFT, for May 19, says the conservancy, and while you yourself might not see the moonbow, your lens very well could. Photography instruction is part of the event — there's an indoor element, to begin with — and "insider tips" will help moonbow mavens strike just the right frame to, fingers crossed, find the after-dark spectrum in water-close action. The Experience Level is set to "Any," and while there is a bit of hiking, plan on hoofing it for under a mile.
THE COST? It's $129, and whether moonbows are encountered or not, figure you'll be out in Yosemite Valley, under a bright moon, in the middle of waterfall season, with your camera in hand. Surely something stellar will spring from such a setting on such a night, moonbow or no.
Copyright FREEL - NBC Local Media