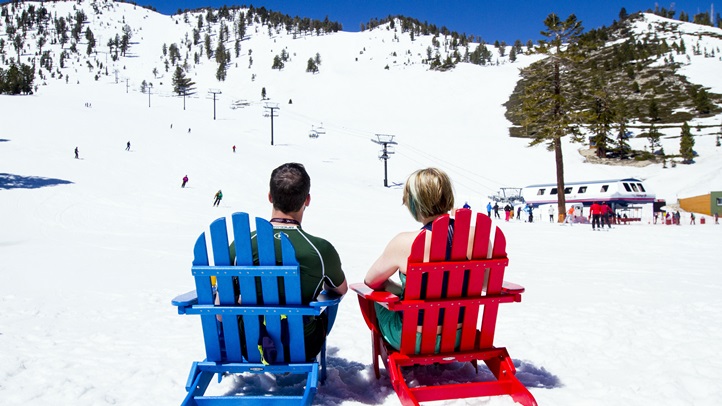 "IT SOMETIMES SNOWS IN OCTOBER": Ask anyone from a mountain town known for its flake-fabulous scene when the first snowfall happens. More often than not, October will be cited, as in late October, as a time of year when the first drifts can make a welcome cameo. That doesn't always happen, of course, and mountain mavens are often left holding their boards as they trudge on into November, awaiting word of snow. But lovers of Lake Tahoe's ski scene, which is oh-so-big and incredibly slope-tastic, can pull out the ol' Octoberisms, for...
MT. ROSE SKI TAHOE... debuted for the 2017-2018 season on Friday, Oct. 27. Was pre-Halloween skiing on your wish list? Consider that wish granted. The base elevation is 8260' feet, after all, which pretty dang high and mighty chilly, even before the hauntingest holiday arrives (Mt. Rose is billed as Tahoe's "highest base resort," yep). The resort will also be open on Saturday, Oct. 28, too, with the Wizard Lift providing the up-the-hill action from 8 in the morning to noon. It's a "Halloween Treat Opening," for sure, but best keep an eye out for when the slopes are fully cooking, er, chilling, which will surely be soon. No future dates are listed beyond Oct. 28, but you know those are coming down the cold pike and fast. After all...
NOVEMBER IS NICE... for icy-fun outings around the ski destinations of the Sierra, even if a pop-up October ski day does make a welcome and somewhat surprising appearance, now and then.
Copyright FREEL - NBC Local Media