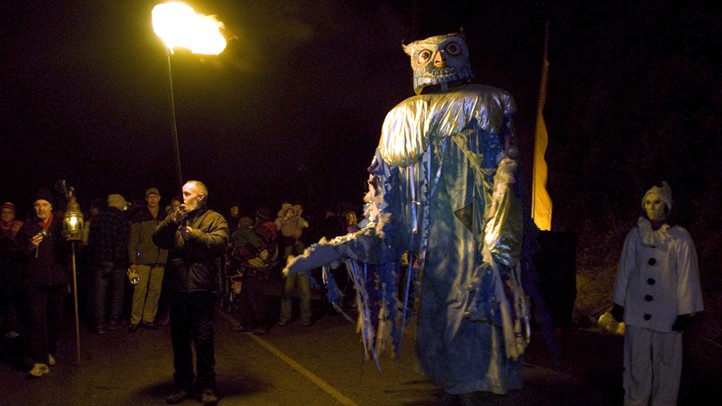 REDWOOD-CLOSE WHIMSY: So you might remember a few weeks back when we mused how watching a solar eclipse while in or near the redwoods might be pretty epic. That fact is that doing anything in or near the redwoods is pretty epic, including observing giant puppets and a lantern procession. That's what will soon go down at the Humboldt Made Fair in Eureka, and we're plotting how to be up there on Saturday, June 23 when the nighttime Elemental is presented. What is Elemental? It's an outdoors theatrical presentation from the Arcata Playhouse that explores the four elements via stilt walkers, mega puppets, and fire dancers. It looks way cool -- yeah, we said "way cool" -- and pretty mysterious, too. Most of all, it is so very Humboldt County. Would one of our state's most free-spirited stretches dare throw a fair that resembles other fairs? Oh heck no.
OH HECK NO, CONTD: There will also be a Kinetic 500 at the Humboldt Made Fair, meaning outlandish sculptures'll be racing. That's also on Saturday, June 23. If you know the area, you know that it has many strong ties to the art of the kinetic race, so bet the best of the best'll be out.
THAT SAID... You will be able to find some of the classics and chestnuts during the June 21-24 fair. Animals and treats and kidly to-dos. We love all those, too, frankly, in addition to loving nighttime mysterious puppet pageants.
WE LOVE YOU, HUMBOLDT: Be honest. You probably love where you live now, forever and ever; we certainly do. But are we all marking time, just a little bit, until that day when we can live, at least for a few happy months, in one of the redwoodiest, do-your-own-thing-iest counties in all the nation? Call it Humboldt Envy. No, Humboldt, redwood-loving hordes won't be storming your fair shores and fern groves, promise; but thank you so much for inviting us up. Appreciated.
Copyright FREEL - NBC Local Media