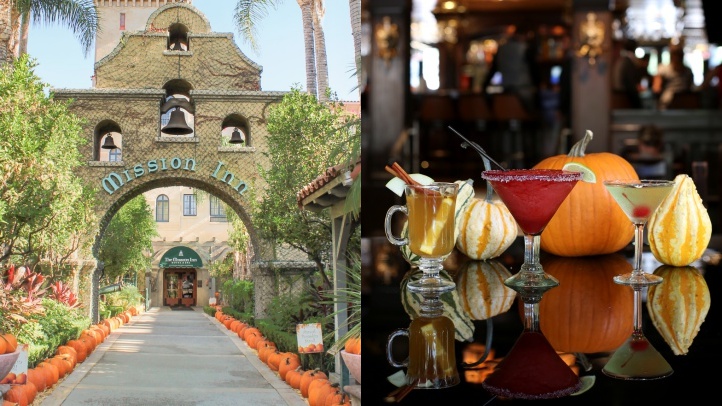 PLACE A FEW PUMPKINS... on your front patio, or six or seven sizable squashes by the front door, or a dozen miniature pumpkins along the wall of your walkway, and presto! You've added quite the autumnal aura to your abode. But what if you had a giant, castle-esque getaway, a regal resort and spa that can trace its storied roots back into the century before last, and you needed to cover a good deal of ground, gourd-wise? You wouldn't go for twenty pumpkins, or even fifty, but you might place hundreds and hundreds of beautiful, stem-topped orange orbs in photo-pretty places around the property, which has a plentiful amount of such places. And, in fact, The Mission Inn Hotel & Spa is doing just that throughout the month of October, when the romantic...
PUMPKIN STROLL... returns. Kelly Roberts, the owner, COO and vice chairman of the history-laden Riverside location, first imagined the pumpkin-filled experience just over a half decade ago, and it has become a fall must-see for Mission Inn guests and visitors since then. But the pumpkins aren't the only seasonal feature at the inn, which is known for its old-world walkways, staircases, and balconies; there are a host of beverages in the Presidential Lounge to consider, like the Harvest Hot Toddy, the Autumn Appletini, and the Perfect Pomegranate Margarita. And if you hope to stay over? Look into the Fall Back Inn Time package, a sweet Sunday-to-Thursday deal which includes a pair of Casey's Cupcakes.
WINE & FOOD FESTIVAL: Look for a new addition to the Mission Inn, on the first Saturday in November. It's the Wine & Food Festival, and some 31 wineries are set to show with some of their most elegant and sippable libations. Pumpkins, cocktails, cozy nights, and excellent vinos, plus food, too: Get to Riverside as quickly as a colorful leaf drifts from a branch for some of this falltime bounty.
Copyright FREEL - NBC Local Media