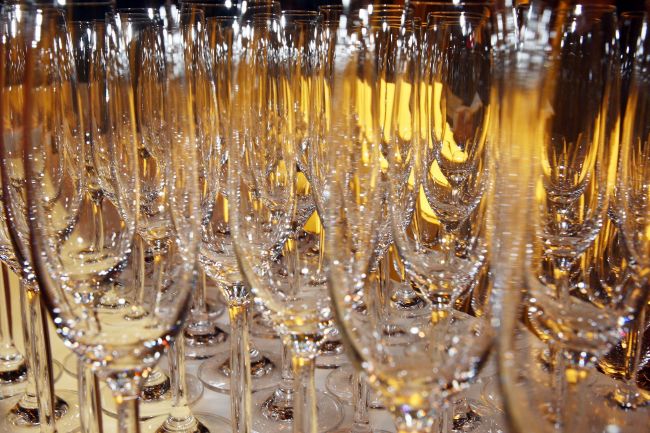 A NEW NUMBER FOR HOLIDAY HELP: The invention of the phone brought many a fine and necessary thing to our world. Dial-A-Joke was once all the har-har rage, as was the inspirational quote of the day. But few phone-'em-up features have been as lasting, and as charmingly nostalgic, as seasonal food-oriented hotlines. It's still a simple, straightforward, and highly excellent idea: If you have an issue with something you're cooking for the big holiday party, and you need advice from an expert, you can call a special phone number and get somebody on the horn who can guide you through the steps before your casserole or cookies or cocktails go flat. Sure, we could phone a relative or a friend, but being able to get someone on the line at Butterball, when it comes to our turkey, is major. Also major, and brand-new to the holiday hotline scene? A number to call regarding that cork-topped, fizzy-fun drink that can be sipped on its own or with a few other lively ingredients. We speak of sparkling wine, a common and classy sight around Thanksgiving and December party tables, and there's a new Sparkling Holiday Hotline to lend our libations life. And it comes from...
DOMAINE CARNEROS... no less. The prestigious Napa Valley wine maker debuted its call-us-we'll-help line near the beginning of November, and it is already fielding calls on all things bubbly. Is a Brut too dry to sip alongside a dry stuffing? Should a sparkling wine cocktail come before or after the wine? And is it okay to have half a glass before the guests show up? (Okay, that probably isn't a common question, but many a host has wondered.) The Domaine Carneros line is open seven days a week, from 9 a.m. to 5 p.m., save Thanksgiving and Christmas, and founding winemaker Eileen Crane, who has over three and a half decades of sparkling wine expertise, may just answer your call. Somebody knowledgeable will, though, meaning that your cork-topped addition to the holiday dinner is in good hands, both on your end of the line and theirs.
AS FOR THAT NUMBER? 800.716.BRUT800.716.BRUT will get you through to the sparkling-wine-o-logist you need.
Copyright FREEL - NBC Local Media