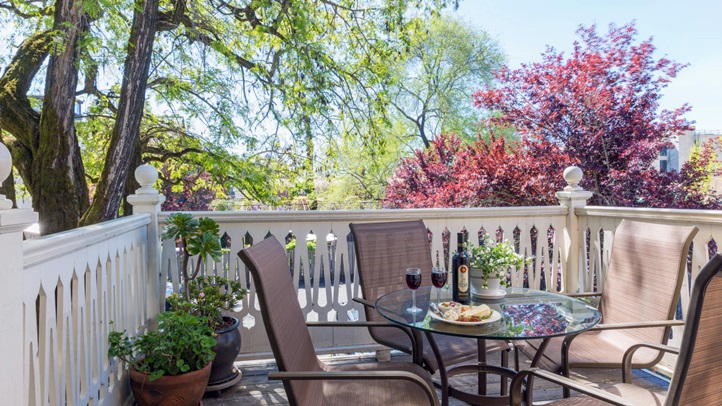 EVEN IF YOU FIRMLY VOW... that your getaway is going to be alllll about your softest pair of pajamas and the three (er, five) novels you have stacked on your nightstand and a bottle of really excellent pinot noir and your phone in the "off" setting, a certain curiosity can set in, after an hour or two, that can inspire you to peek out the window. What's the town like, just beyond the inn's front door? Is there nifty stuff to peruse? And, most importantly... Is it walking distance? Because...
A GETAWAY... so often is about ditching the car keys for a couple of days. Healdsburg Inn has a whole best-of-both-worlds-y situation going on, in that it absolutely is the sort of spot you can tuck into with your pjs and novels in tow, and yet? The Plaza is just a few steps out the door, meaning you can go toodle through tasting bars and ceramics stores and specialty food shops and the host of swanky mercantiles that lend the wine country town its genteel flair. If this combo appeals, pj time and poke-around time, then look to the new...
SIP, STROLL & STAY PACKAGE: The Four Sisters Inn property has a two-nighter afoot that's about getting out on foot, around Healdsburg, whenever the guest should please. Other benes, like "a complimentary bottle of sparkling wine," the inn's Perfect Bath experience (think posh bath scrubs and such), some comfy robes, nosh-rich truffles, and a tasting at Dutcher Creek Winery are some of the stay-in, no-wait-go-out additions. Hankering to get to know Healdsburg better, and the surrounding wine scene, and yet desire a destination where bath time and nap time and easy time are also part of the whole? It doesn't have to be either/or at the Healdsburg Inn (but book soon, as it wraps on March 2, 2017).
Copyright FREEL - NBC Local Media