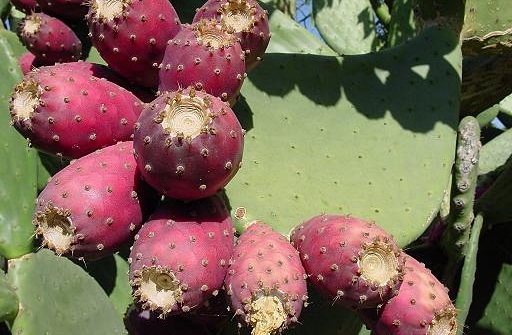 JUICY PECKING: Even if we've never tried it, we know the red, oblong orbs that periodically top prickly pear to be tasty. We only need watch a nature film, where birds and other winged and clawed denizens of the desert nibble at the fruit while avoiding the nearby thorns and prickles. Prickly pear jelly is also a common sight on the airport gift shop shelves of Arizona, and, yep: It's good. But taking a saunter in the fall sunshine and enjoying unusual fruits from cacti and plants not often tasted is a rarer thing. Food tours are common nowadays, of course, and thank goodness, but cactus-supping tours are still not. There will be an exception, though, on Saturday, Oct. 19, when prickly-pear-ists and dragon fruit-craving adventurers head into the Ruth Bancroft Garden at Walnut Creek to sample those natural goodies we don't often get a chance to try, at least in the out of doors.
ALONG THE WAY: The 90-minute tour will cover a variety of unusual plants, including the aforementioned dragon fruit and prickly pear. Palm fruit will be tried, as will pineapple guava and fruit form a strawberry tree (direct from Mrs. Bancroft's private garden, says the site). The site also promises that the garden boasts "an abundance of fruit-producing plants," so you may see and/or try something you've never even spied on the grocery store shelves.
And, nope, we're not turning our back on apples or grapes or cranberries or the other fruits of fall. Those traditional fruits include pears, of course, and we do advise the next time pears come up as a topic -- say, at your next dinner party -- you can peacock about and talk about the autumn Saturday you spent nibbling at prickly pear fruit.
Copyright FREEL - NBC Local Media