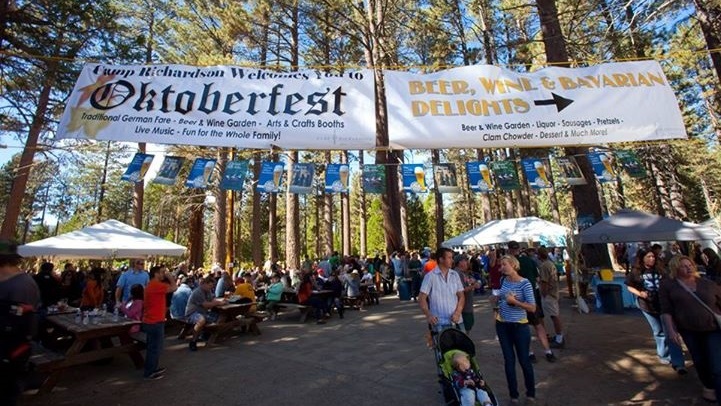 SETTING MAY NOT BE EVERYTHING... in a celebration, for the food and the drinks and the themes and the people (most importantly, natch) do their part to lend texture to a party. But where a festivity takes place, its location and surroundings, can do much to up the general atmosphere of an affair. Think of a Halloween buff turning an apartment into a castle for the night, or how a backyard might become Santa's workshop, at least for an hour or two.
CAMP RICHARDSON... Historic Resort and Marina doesn't need to do much in the decorating department, however, when it comes to its yearly Oktoberfest whoop-di-doo. It already has all of those tall trees, and alpine-y breezes, and lake-close buildings to give its falltime festivity a true feeling of the season. The aforementioned lake is, of course, Lake Tahoe, which lends each time of year some oomph, including, and perhaps especially, the early autumn. Thank the famous Kokanee salmon run for that, and thank the visitors turning out in lederhosen to participate in stein-holding competitions, which will again happen over the first weekend in October. That's...
SATURDAY, OCT. 1 AND SUNDAY, OCT 2, and the 22nd annual Oktoberfest will include a host of classic must-dos, from polka dancing to bratwurst eating to craft booths to the all-important showdown that finds dogs and their peoples gussying up in photo-ready costumes. Soon the snow shall be a-whirlin' in the peaks near the lake, and ski togs'll be seen on many flake fans. But for now, when autumn is at its mellow zenith, best find a stein to hold, and a pumpkin to buy, and a song to swing to, at one of the most Oktoberfest-y settings around.
Copyright FREEL - NBC Local Media