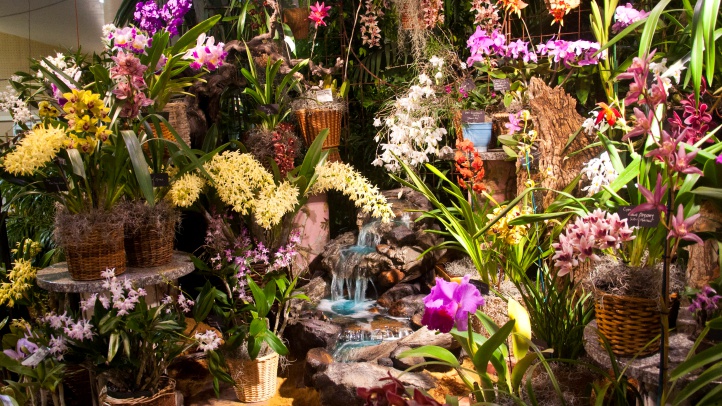 HAPPY HARBINGERS? They can arrive in many forms, from a chill wind revealing that snow is on the way to a briny breeze promising the Pacific Ocean is just over the next hill. And as for springtime? It's a season with a multitude of harbingers, but surely one of the most spectacular, and easiest to keep close, is the flower. For while snow melts and briny breezes are rather hard to bottle, a gorgeous, petal-perfect grower, in a vase or planter, can bring months or even years of pleasure. How pleasurable it is, then, to spend the days just ahead of spring's start reveling in one of the most exquisite and unusual and iconic of all flowers, the...
ORCHID: That's just what will happen, from March 15 through 17, when oodles of orchid aficionados arrive in the American Riviera. Their goal? To spend one, two, or three days at the 74th annual Santa Barbara International Orchid Show, a spectacular that isn't simply big in the orchid-cherishing world, but on the calendar of flower-oriented affairs, too. No wonder, for this happening, which can follow its esteemed roots back to 1945, includes 50-plus exhibitors, and vendors, too, hailing from California and well beyond. Those pros'll be talking all things orchids, and showing them, too, so you can expect to see an enormous array of orchids, including "... thousands of blooming orchid plants for sale."
THE EARL WARREN SHOWGROUNDS... is the location, and while Saturday and Sunday will be in full bustle, Friday night, or "Orchids After Dark 2019," is your chance to "See the Show without the crowds!" Whenever you go, look for some of the biggest and most fascinating names in the orchidverse to be there, including Ecuagenera, which will have "fascinating species from the South America region," and Seed Engei of Japan. Other names on the roster include Orchids of Los Osos, Orchid Society of Santa Barbara, and lots more. Tickets? Open your petals and peek at this site, now.
Copyright FREEL - NBC Local Media