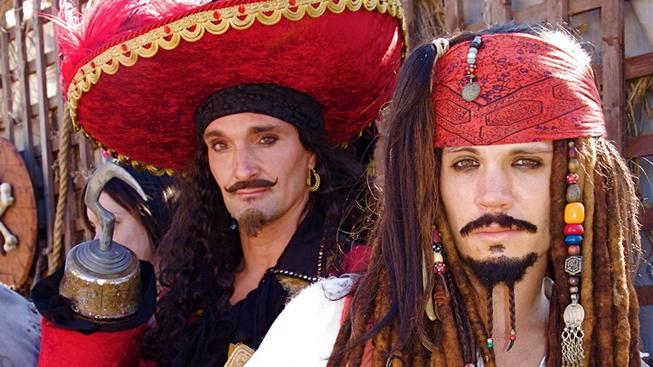 What to Know
Saturday, June 1
11 a.m. to 4 p.m.
Free
PIRATES ON LAND? They're probably going to search for treasure. They're likely wielding some sort of shovel-type tools, all to dig in the soft sand. And might they sing a shanty or three while they search for a trunk packed with gold? That's as likely as the ocean is deep. Sometimes, though, pirates hang around among the landlubbers, on terra firma, all to engage in photo-taking, and "arrrr"-growling, and the buckling of swashes. Which translates into hobnobbing with those visitors that would like to snap a pic, and maybe engage in some scallywaggian conversation, with the pirates on hand.
THOSE PIRATES, and visitors, will all gather around Ventura Harbor Village on the first Saturday in June 2019. Surely there's a shanty that mentions such a fabled day? "Ohhhh, June did dawn, so bright and sweet, and onto land, my mateys did keep..." (Perhaps we're onto the next hit shanty, fingers crossed.) The fun'll last for five hours on June 1, which is shorter than it takes to sail across the Pacific, but fairly long when you want a few pirate meet-and-greets, and to get lunch, too, at one of the local restaurants. What's on the...
PIRATES DAY TO-DO LIST? Beyond the very game figures sporting tri-cornered hats and buckled shoes, look for "entertainment, activities, and photo opportunities around every corner." Or "tri-corner," if you will. Yes, in addition to shanty-writing, we also like hat jokes. But what pirate fan would deny us the pleasure? For more on this salty celebration, send your favorite parrot to gather more information, on this site now. Squawk!
Copyright FREEL - NBC Local Media