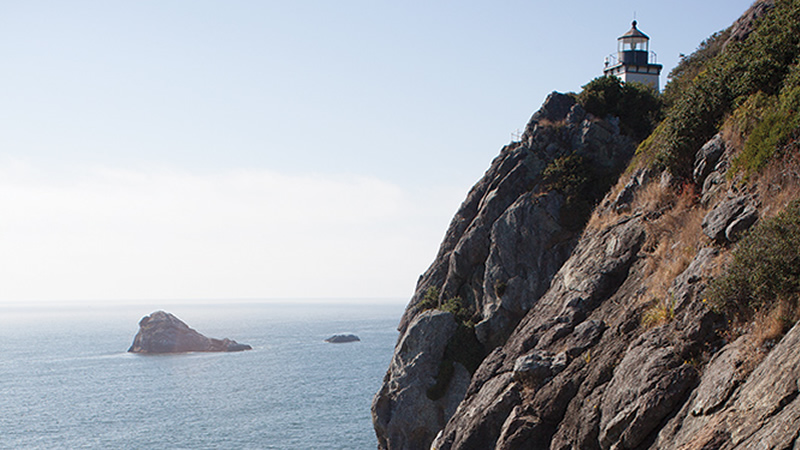 A FAMOUS RUN, A RARE PEEK: When one hears of the Trinidad to Clam Beach Run Honoring Ford Hess, which celebrates its 50th dash along some of the state's most fictionally beautiful, sea stack-bedecked coastline on Saturday, Jan. 31, one is apt to think soggy thoughts, at least for a moment. That's because the buzzed-about run crosses the Little River at low tide (so, yep, participants do splash directly into the wet). Not too many running events in this world involve a water element, but this beauty-famous one is very much about people fording one of Humboldt County's best-known waterways at the precise moment that fording is possible. A fun and nice fact? Ropes are on hand to lend a hand.
BUT AS WITH ALL HUMBOLDT TO-DOS... there are some history-rich doings to enjoy in addition to the nature-nice outdoorsy happening. And the one that'll have runners and shore buffs sticking around through Sunday, Feb. 1 involves the Trinidad Head Lighthouse, a built-in-1871 beacon that has clearly weathered some decades -- centuries, actually -- and "the highest recorded wave on the West Coast." A "wall of water crash(ed) into the lighthouse balcony" back in 1914, surely an astounding sight, given that the lighthouse sits nearly 200 feet about sea level. You can hear that story, and more lore from the picturesque landmark, on Feb. 1 if you attend the "rare open house" involving a few of the agencies and historic organizations of the area. It's a walking tour only, and in the morning and over lunchtime, so if lining up the Golden State's iconic beacons for your viewing pleasure is on your personal life list, best get on this one, lighthouse lovers.
AND AS FOR RUNNING ACROSS THE LITTLE RIVER? Lots of people do it, there are the aforementioned ropes to assist runners on their way through the wet, and Coast Guard Rescue Swimmers are close and at the ready. It's an unusual race paired with a rare-to-see lighthouse, but both have more than their gorgeous Humboldt County location in common: They involve water, and lots of it.
Copyright FREEL - NBC Local Media