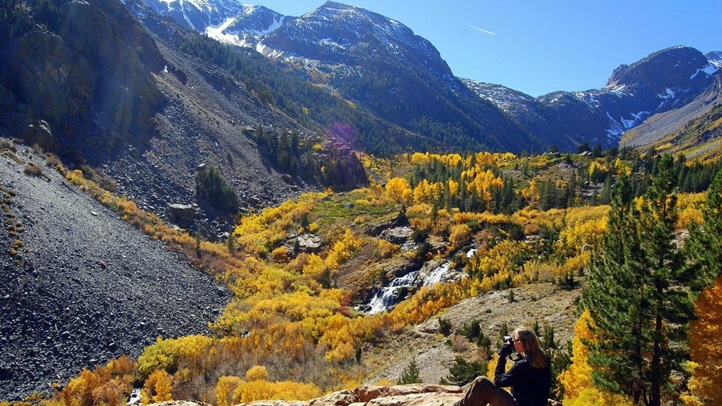 THE LIQUIDAMBAR... in your backyard may still be a bright green, and your oaks and maples look as though it could be the middle of June, appearance-wise. But the third week of August has a way of changing up some of the trees of the Golden State, at least in the subtlest of fashions and at the highest of elevations. And while the autumn equinox may officially be a month away, the go-to foliage-watching blog of our state, California Fall Color, is up and posting for 2016.
TRUE, there isn't much to report in the eighth month of the year, but the first few posts are showing a few small shifts, with the high elevations of the Eastern Sierra telegraphing that cooler nights are impacting deciduous trees up along the slopes and canyons. This doesn't mean that the whole leaf-peeping scene is ready for launch — that happens in late September and much of October around the lower parts of the Eastern Sierra and up into the Lake County and Plumas County regions — but it does say that those wishing for a weekend of road-tripping to see some picture-ready golds and reds should start to block off a few weekend dates.
GO NOW! That's the urgent call that the California Fall Color blog typically sounds, and it means that leaf-peeping in a particular region is at its 75-100% peak. That can be hard to predict, but if you keep an eye on the helpful foliage map, and what fans of the blog are submitting, photo-wise, you might be able to get a solid idea as to when your favorite spot will stage its annual autumn show. A show that isn't too far in the future, as of August, so keep an eye on the blog and keep your road-trip snacks and suitcase handy.
Copyright FREEL - NBC Local Media