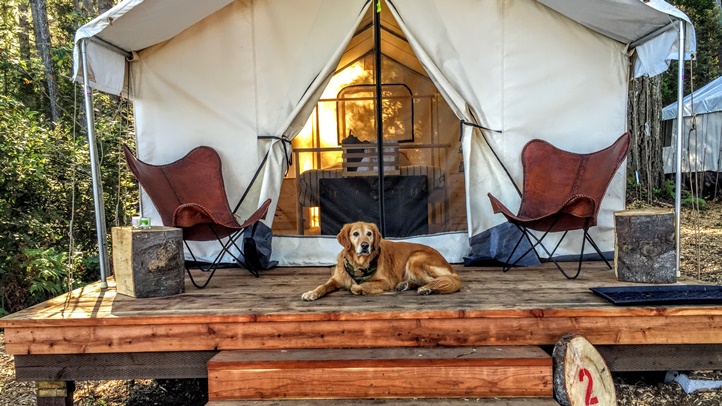 COMMUNE WITH NATURE? It's something a lot of people very much long to do, but the time they have to do so is far too short. So finding a place that is already situated in a sublime spot, with some gorgeous tree action, and some ethereal ocean-bluff action, is key. Also helpful? If there is a stay-over element to the area, an overnight that puts you directly in the wilderness, but perhaps not too deep inside the wilderness, since the time you have to commune is on the briefer side. And if all of this takes place in Mendocino County, not far from the town of Mendocino itself? You're also adjacent to some of the most beautiful postcard-y sights that the California coast, north or south, has to offer. There is such a place that jumpstarts the whole commune-now-please-nature vibe, and it is next to Mendocino, and it is on an ocean bluff, and it just happens to be heading into its second season this spring and summer and early fall, and it is...
MENDOCINO GROVE: Call it "camping made comfy," if you like, and secure your reservations soon, as they are now open for the 2018 season. The dates are Friday, May 11 through Halloween, and those who decide to secure a night or two can choose from "Safari-style Classic and Family tents, fully outfitted with comfortable beds, warm down comforters, wool blankets, crisp cotton linens, lanterns, and more." There are 60 tents on the 37-acre property, plus "(l)uxurious bathroom facilities with hot showers, complimentary EO bath products, fresh cotton towels, and well-appointed restrooms." Meadow-lovely hammocks, a picnic table at every campsite, a private trail made for hiking (with treks led by a guide on weekends), and a gratis breakfast bar, one that includes Thanksgiving Coffee from Fort Bragg? All nicely, naturefully woven into the Mendocino Grove experience.
YOUR PUP IS INVITED, TOO, for an additional $20, plus a refundable deposit, and get this: There's a dog-watching station, a great perk that is often needed following trips away with your hound (but rarely found). A getaway at the Pacific-meets-Mendo spot is an easy path to getting closer to nature, when you don't have a week or two to wend into the deeper woods, but you crave some briny breathes (hello, ocean) and perk-packed camping (hello, down comforters) and a hammock or trail or both, plus top-notch local coffee. Prices, reserving, tent photos, and ocean views? You know we're about to link ya, and we shall, now.
Copyright FREEL - NBC Local Media