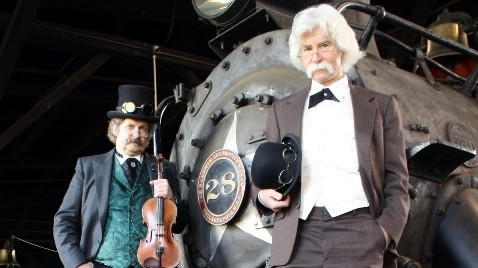 CELEBRATED TRAVELER: If you've been aboard an historic train before -- and that's a pretty easy thing to accomplish around California, given that we have our share of storied rails -- you likely know what it is like to ride with a costumed performer. Oh, perhaps it is a man in a bushy mustache and 19-century suit playing a banjo, or perhaps it is a lady with a parasol who tells the kids stories up in the first car, or perhaps it is even Santa Claus or the Headless Horseman on one of the ubiquitous holiday trains. But having a known writer who called the Golden State home -- and even made parts of it famous, or notorious, if you prefer, via his essays -- is a whole other matter. Mark Twain is the writer we're about to reference, and the author -- played by Mr. Pat Kaunert -- will step aboard the Sacramento Southern Railroad on Saturday, July 7, to hobnob with fans and tell long ago tales of the Gold Rush and the Golden State in another era.
FIDDLE AND THEATRE: The night doesn't actually begin on the train but at the Eagle Theatre in Old Town Sacramento. After Mr. Twain exposes and amuses -- we picture him holding one lapel in grand style as he does so -- everyone'll board the train, Twain included, and enjoy a Sactown sunset and refreshing beverages (think lemonade and iced tea). A ticket is $24 for the not-so-young'uns, half that for the young'uns.
TIME TRAVEL WEEKENDS: And if you're really keen on your old-timey costumes and shenanigans, arrive in Sactown early for the opening day of the 2012 Time Travel Weekends. Weekend one, which is July 7 and 8, will have a patriotic theme.
Copyright FREEL - NBC Local Media