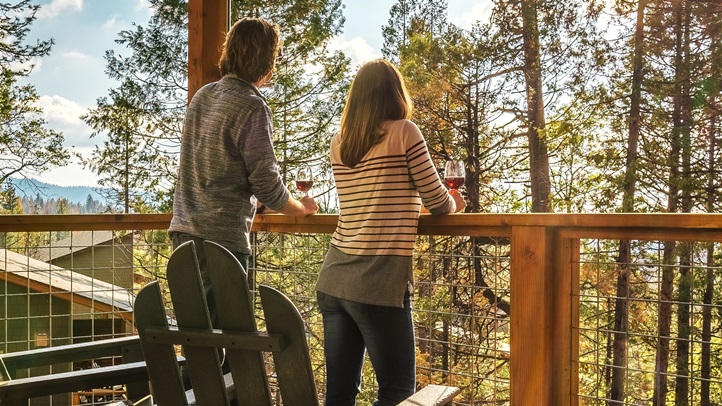 BIG AND LITTLE THINGS: Yosemite Valley, it might be said with the utmost confidence, is full of Very Big Things, the sorts of sights and wonders that can't quite be described by a person throwing down a lot of baroque adjectives while describing what they've seen. There's Yosemite Falls, which is one of the planet's (and possibly the solar system's) most epic waterfalls in size, and there's Half Dome, a granite hunk so humongous that even words like "humongous" can't accurately convey its colossal-ness.
BUT AREAS NEAR YOSEMITE... are devoted to the cultivation of smaller things, much smaller things, in fact, the kind of good things that spring from vines. Indeed, we speak of grapes, and the vineyards that dot the low Sierra foothills near the beloved national park. Getting acquainted with the Very Big Things, like Half Dome, is important during a Yosemite-close getaway, but so is knowing small things like grapes, and the local vineyards, if that's your jam. Rush Creek Lodge, which made its debut earlier in 2016, wants to pair up wine lovers with wine knowledge of the region, and it is doing so via its new...
VINO TOURS: It's the Yosemite Cellars Vineyard Tour & Wine Tasting, and it is a fresh addition to the lodge's recreational offerings (fresh as of autumn 2016). Guides who know the area well will talk about the distinctive vinos that do best in and around Groveland, where Rush Creek Lodge is located. If taking in some mellow fall foliage goldenness while sipping a cab appeals, hang tight: The tour is on the way. But there are other experiences to choose from with the lodge as a springboard, including Guided Sequoia Hikes, Snowshoe Adventures, and a host of naturalist-led hikes to various destinations. Give the lodge a call for details.
Copyright FREEL - NBC Local Media