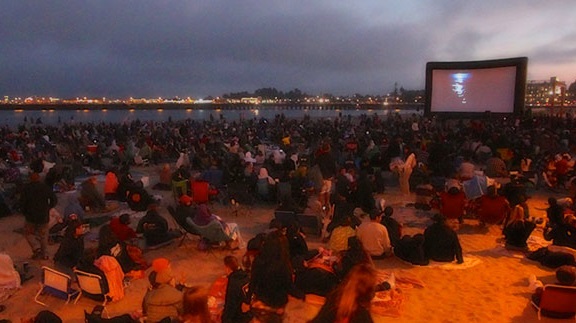 SANDY CINEMA: Practically every true-blue, popcorn-passionate movie maven speaks of that one movie house they grew up going to, the one with the soda-sticky floor. Or the floor that had seen one too many gummy candies over the years, or was slightly crunchy with popcorn salt, or... you name it. It was a well-loved theater with a well-loved floor and we wouldn't dare change a thing about it. But viewing a film while squishing sand between your toes is a whole other ball of wax, or, if you prefer, reel of celluloid. For while we often have chances to see cinema in various parks come the summertime, and to feel grass under our feet (and seat), doing the same thing on the beach is far rarer.
EXCEPT IN SANTA CRUZ, at the Santa Cruz Beach Boardwalk, where free movies during the warm weather months are a much-loved, blankets-out, don't-forget-a-jacket tradition. But the pay-nothing cinema isn't the only tradition around; the Free Movies on the Beach series will open, once again, with an '80s favorite that was made right on the Beach Boardwalk, famously. There are cool vampires, the coolest, and tons of nocturnal atmosphere. What's that? What did you guess? Why, you're on the money. The opening film is...
"THE LOST BOYS"... on Wednesday, June 24. The local must-watch revs up the multi-week, Wednesday-night-y series, and there are more 1980s gems to follow, including "The Breakfast Club" and, a little further out, "The Princess Bride." Sand between the toes, Santa Cruz vampires circa the late '80s, and a swashbuckling funny fantasy where you know every single line? Without paying anything? It's one of the rarest of summer theater-going experiences on the coast. Of course, with you pocketing the bills, instead of paying them, you'll have the cash for some salt water taffy and a corn dog, too. Sorry, popcorn, you may have to sit this series out, if only because the Boardwalk serves up such quintessential bites.
Copyright FREEL - NBC Local Media