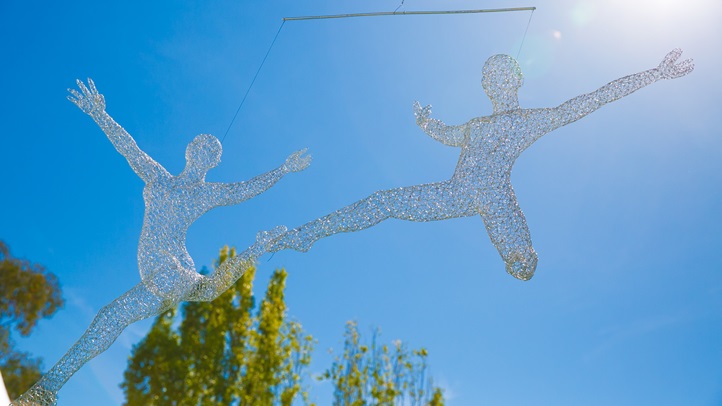 SUMMER, DON'T GO: To say there is a hint of bittersweet longing in the air around Labor Day Weekend is to indulge in some understatement. While many people are eager to jump into autumn, and crisper days, and the coming holidays, still others are looking to soak up the last of summer's golden, go-slower ways. There are countless ways to do that, from finding a swimming hole, to eating ice cream while sprawled on a lawn, to watching the stars from atop a sleeping bag. Of course, one of the largest Labor Day Weekend happenings is also one of the places to find summer's joie de vivre in happy excess, and that it has been sending the season off for well over six decades is a feather in its stylish cap. It's the Sausalito Art Festival, which is savoring its 64th annual go-around from Saturday, Sept. 3 through Monday, Sept. 5 in its namesake city. Yes, you're right, that likely means it'll be...
NEAR THE WATER, which is one of the festival's many breezy charms. On land another of its many attributes shines through, in the 260+ artists who are filling the festival grounds with everything make-able under the soft Sausalito sun. Paintings? Yep. Photographs? Double yep. Jewelry, sculpture, woodwork, textiles? All the yeps. It's a bevy of beautiful pieces to admire, and, more than that, to discuss with the person who created them (that person is often nearby). Ask your favorite artists about accolades — many have earned awards at top shows — and inspirations, which is always a fine topic to delve into, at length.
AS FOR OTHER DELIGHTFUL DOINGS? Look for live music (Squirrel Nut Zippers and Monophonics are just two of the bands), a Magic Circus Family Show, places to find a zesty glass of vino, fancy noshables, and places to soak up the breezes off the water. Summer won't last forever, but it is found in colorful concentration in Sausalito every Labor Day Weekend. Jump into the fest if you just haven't yet summered-up enough.
Copyright FREEL - NBC Local Media