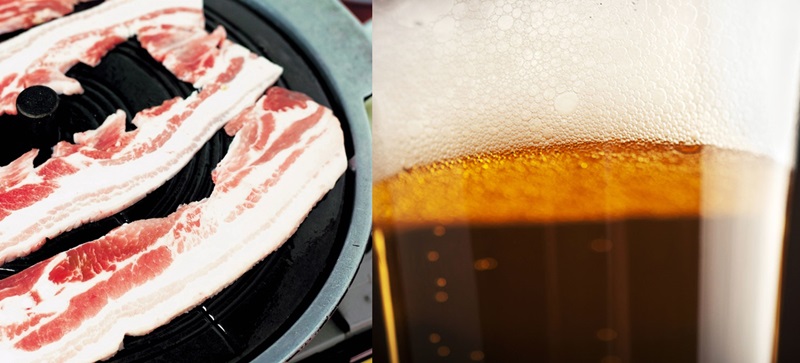 BACON INSIDE BEVERAGES: So many delightful theme trucks and stands and booths and restaurants have popped up, hither and thither, over the last few years, and many fully focus on a single ingredient, item, or product. We're going to propose the next hot food truck, or drink stand, rather, and food-minded entrepreneurs may use and interpret how they will. We rather believe that a business solely devoted to beverages that have bacon in them might fly. Exhibit A? The Bloody Mary. Oh, the traditional celery stalk is perfect, and a green bean makes a crunchy twist, but you're just as apt to see a crispy bacon strip as garnish these days. Exhibit B? The bacon malt or milkshake. That one's just simple math: savory plus sweet often equals yum. ("Yum" is a technical term, of course.) But while we wait on that stand that only serves bacon-influenced beverages, we can enjoy the strip with a side of suds at not one but two upcoming to-dos that fully focus on bacon and beer. Sorry, peanut butter and jelly, and salt and pepper, your days as a top-reigning duo may be number.
OAKLAND BACON AND BEER FESTIVAL: The Market Building at Jack London Square is about the get highly meaty -- and liquidy, too -- on March 9. This baby's sold out -- here's a not-so-shocker, but anything with "bacon" in the name, followed by "beer," means tickets disappear fast. So best keep your eye on...
THE SAN MATEO BACON & BREW FESTIVAL: It opens the fall, and while that's a bit of time away, trust: Tickets'll pour as fast as 12 ounces leaves a bottle. Glug, glug, glug and the beer is out, and so shall tickets be. Date's Sept. 27, place is the baseball field at Central Park in San Mateo. On the menu? It's in the name. But since this is happening in autumn, who wants to spend some time developing that bacon beverage stand? We can proooobably skip the bacon soda, but beer and salty strips? Um, yum.
Copyright FREEL - NBC Local Media