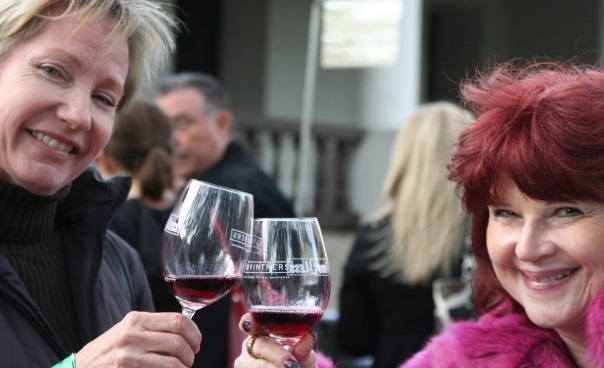 HUFFY AND PUFFY: If it is week -- is it where you are? Because it is where we are -- then you can be fairly certain of one thing: Some report will be released on how happy we are by geography, or how blue, or how many apples we eat a day, or how much we swear, or how often we wear sneakers, or when we do all of the above at the very same time. It's good information, but it seems that the happiest cities lists are what can rankle people the most (odd, but true). Everyone wants to see where they live on that list -- they definitely don't want to see it on the not-happiest list -- and when it isn't there hackles tend to be raise. The exception to the raising of the hackles? San Luis Obispo.
WE LOVE SLO: Even if you don't live there, you have to agree with its presence on the Happiest Cities in America lists (and the Central Coast town is always in the top ten). There's no jealousy over SLO being chosen over your particular city, because, well, it is SLO. It's an easy-breezy, come-as-you-are, naturally beautiful spot with an affinity for wine, food, and the world's most famous themed-room hotel. Everyone loves it -- please mark down that we said so, Happiest Cities in America researchers -- and many a California loves to visit for the occasional weekend. And one of the best, at least if you're a vino drinker? Roll Out the Barrels.
JUNE 20-23: The outdoorsy, no worries, no hurry celebration of Central Coast wines falls over the start of summer, which is perfect. We can't verify, but we suspect San Luis might have a patent on the season. There are several parts to Roll Out the Barrels, including a weekend passport and tickets to Barrels in the Plaza, so you'll want to study up. The winery names on the tasting glasses are SLO and SLO-close royalty: Edna Valley Vineyards, Pismo Beach Winery, and, Cal Poly, of course. And the food? A number of Obispoan restaurants'll be serving up the sustenance end of the deal during the festival. Tickets? Yes. Happy time? It's SLO, so no more need be said on the matter.
Copyright FREEL - NBC Local Media