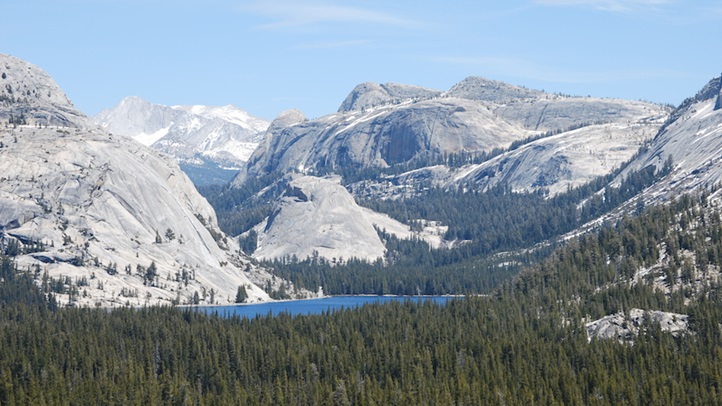 IF ONLY... those not-so-long-ago people who ventured West, over major peaks and craggy expanses, had had some sort of glowing-screened device with they could consult before heading out, particularly when colder weather was due. You know the kind of device we're talking about? It's generally a rectangle, though not always, and words and pictures appear on it, and we're able to interact with it by posting information. Hmm. Someone should name that. But not-so-long-ago people did not possess our modern conveniences, meaning chances were taken as to whether passes were clear of snow. We, however, get to know when passes are clear, and a major one is, through the Sierra, and early, too: The Tioga Road, one of the epic thoroughfares over the Sierra, is set to welcome visitors over its twisty, mountain-pretty turns on Friday, May 2.
YEP... it's an early opening for the Tioga, but no surprise, given the dry winter we just weathered. Still, "(s)now and icy conditions may still exist on hiking trails at the higher elevations," so, as anyone should ever do when setting out in a glorious wild expanse, use caution. Campgrounds along the Tioga remain closed, but are those famous meadow wildflowers starting to show their petal-framed faces? Early Tioga venturers will find out.
THE TIOGA ROAD... or State Highway 120 runs between Yosemite National Park and Lee Vining to the east. And while we and every carbon-based life form would obviously take this moment to extol the virtues of Yosemite, let us pause here to pay homage to Lee Vining, and its Whoa Nellie Deli, which sits right at the very start (or end) of the Tioga. Ever eaten a sandwich outside on a sunny day at the deli while staring at Mono Lake? It's a true California pleasure that hasn't had enough songs written about it. Do it before heading into Yosemite and be, if not transformed, then made happier for the length of time it takes to eat a sandwich.
Copyright FREEL - NBC Local Media