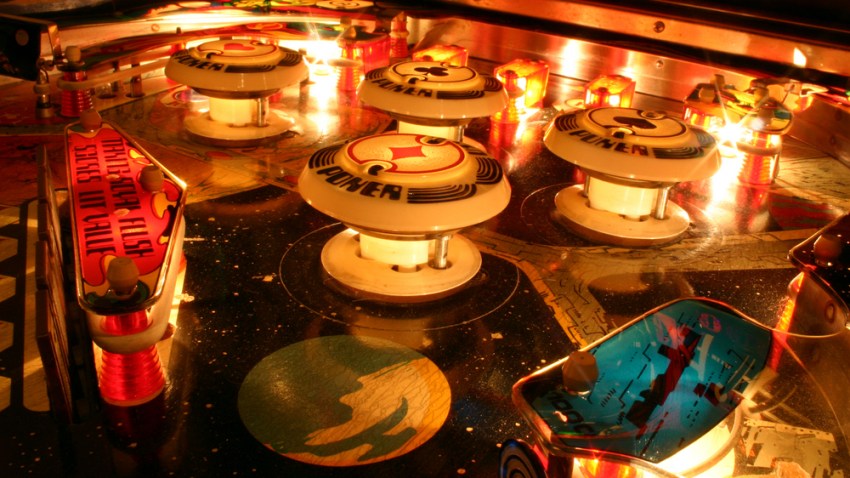 TOGS TO TILT BY: If you had to describe the perfect pinball outfit, where would you begin? Most people might start by suggesting that the clothing be a little loose fitting, though not too loose. The player at the machine does not want to be constricted, and yet one does not to dress too freely, lest a pocket or belt loop gets caught on the plunger in a fit of heated play. Also, dare we say it? Pinballers should wear a get-up that can take a bit of sweat, because if you're going to beat your personal best, you're going to perspire a little (if you're playing right). Most of all, something vintage and waybacky feels right. Think of all of those photos from the 1970s, where dudes in flared jeans and no shoes -- and sometimes no shirt -- hovered over pinball machines intent on scoring their 100th jackpot of the day. It turns out pinball traditions do have sartorial back story, clothing connections that played out in both the players and the illustrated people depicted on the machines. Pacific Pinball in Alameda shall celebrate retro fashions that go well in the pinball hall, with some music and open pinball play, on Saturday, Nov. 22.
VINTAGE PINBALL STYLE: A retro clothing sale'll go down -- "See pinball fashions come to life!" -- in conjunction with the Pinball Style exhibit now on display. There shall be entertainment, such as comedy stylings and DJ-helmed music, and attendees are welcome to play, sans quarters, any of the 100 machines in the house. Yep, they're free, but the event is ticketed, at $15. So if you need some retro old-schooling and funny ha-ha-ing and some time besting various kickholes ahead of the holidays, the time is nigh. Well, the time is Nov. 22, 1 to 5 p.m.
NO, REALLY... don't early '70s flared jeans make the perfect pinball-adjacent wearable? Few pants are as full of attitude, which one needs some of to master the small ball.
Copyright FREEL - NBC Local Media