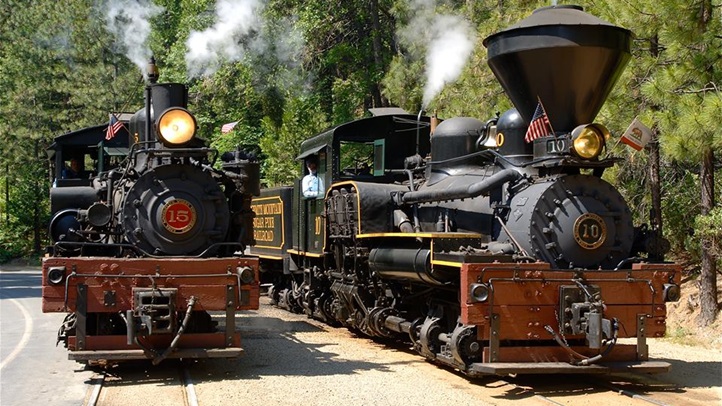 HISTORY BEFORE YOUR EYES: Any grown-up who is at all honest will admit that the field trips of yore, those school outings where you got to go somewhere and learn local history -- after you had a parent sign your permission slip, of course -- were pretty much The Best Thing Ever, Like, Ever and Ever. You anticipated the bus ride to the farm or gold camp or city hall for weeks, and when the day came... well, you clearly got no shut-eye the night before. What a pity that we, as full-fledged adults, let this former delight lag. There are still field-trip-y fun times to enjoy, and you don't even need a family member to sign a mimeographed permission slip (unless you really want to).
SUGAR PINE TIME: One of the most charming, and one that wears its Old West clothes quite well, is the Yosemite Mountain Sugar Pine Railroad at the south gate of Yosemite National Park. Yep, field-trippers, it is an old-school, oh-so-historic railroad, a line of tracks that once saw loggers at work decades and decades ago. The Sugar Pine still wends four miles through the picturesque Sierra National Forest, giving riders a chance to not only get the As, Bs, and Cs of this slice of California history but to soak in some tree-dapply sunshine as well. And as for the off-train doings? Don't tell your elementary school self all about the gold-panning and such, because younger you might be a mite jealous.
SPECIAL DOINGS... on the Sugar Pine Railroad include the Moonlight Trains, which include gathering around a campfire and singing songs, Moonlight Melodramas, a photo train (for shutterbugs who like to capture steam against trees against sky), and, as mentioned, gold-panning, that activity that would surely make younger you jump up and down with anticipation. You're allowed to jump up and down as an adult, of course. Because field-trippery? It should never be just a part of our past; there's still stuff to learn, sights to see, gold to pan, campfire songs to sing.
Copyright FREEL - NBC Local Media