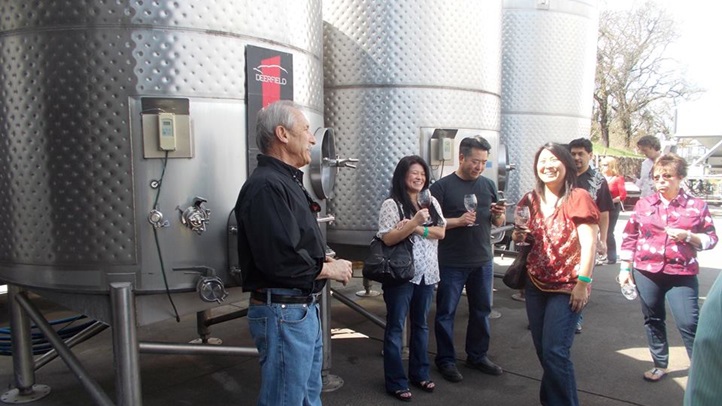 THE CHOOSING IS CHOICE: When a mondo weekend packed with wine tasting opportunities arises -- and arise it does, in a grand and lofty way -- it can send even the loosest-goosiest oenophile into a spiral. Where to start? What wines should I try and taste? Do I go to tried-and-terrific wineries or fill out my dance card with places I've never been? These are not the hardest of questions, of course, and they do, in fact, err on the side of being rather pleasant. If you're up to a rather pleasant task of winery-choosing, and you want to do it over the rather pleasant first weekend of spring, make for Savor Sonoma Valley, a multi-vineyard, multi-multi-multi-wine weekend that'll spread over a wide swath of the S.V. on Saturday, March 21 and Sunday, March 22.
RESERVE WINES, BARREL WINES... and a full spectrum of offerings will be on the counters (and in the glasses). It is year 25 for Savor Sonoma Valley and twenty wineries will take part in 2015. They include Benziger Family Winery, Imagery Estate Winery, Loxton Cellars, and St. Francis Winery & Vineyards. Beyond visits to the barrels and special, pulled-out-of-secret-spots cabs and pinots, there shall be posh bites from local chefs, tours of the wine-making houses, walks among the vines, tune, and the other niceties that pop up when a whole caboodle of wineries throw their hats in the collective single-weekend ring.
THE PASSPORT? It is $65, and it nabs you that all-important souvenir glass. Now who has a glass from every Savor Sonoma Valley from the past quarter century? That must make quite the impressive shelf display (and serve as a reminder that a wine tasting weekend is, as we stated, rather pleasant, a statement that's pretty darn easy to make.
Copyright FREEL - NBC Local Media