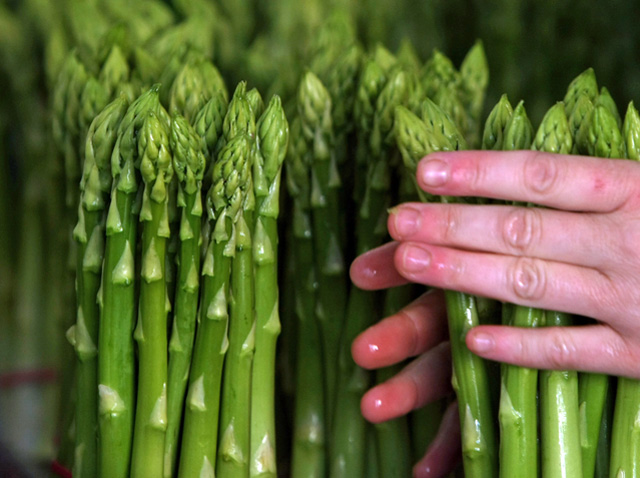 DESSERT'S LENGTHY ACCESSORIES: While most of the standard courses of a meal arrive with utensils and implements and edible additions of a rather reasonable length -- toothpicks holding little ham folds neatly in place, French fries that can be handled in one bite, butter knives that are barely as long as a ring finger -- dessert is another matter. Due to its slightly whimsical and indulgent nature, the final course of the night, that sugary respite, tends to have some of lengthiest flatware and ornamentation: long silver spoons designed to reach the last of milkshake, colorful stretchy straws perfect for slurping syrupy sodas, tall, thin birthday candles stuck in cakes. Why longer things end up at the close of a meal is a topic best left to the food historians, but suffice it to say that when a group of eaters is pepped-up on sugar, straw fights and spoon tricks begin.
SO PERHAPS THE FACT... that one of the thinnest and gangly of vegetables is being paired with the concept of dessert is just the twosome that many an adventurous diner has been seeking. We speak of asparagus -- that's the gangly vegetable hinted at above -- and we speak of ice cream, a sweet that typically arrives well after the lemony, buttery asparagus platter has left the table. But you can try both concepts together, in Stockton, when the San Joaquin Asparagus Festival gets flavorful from April 17 through 19.
ASPARAGUS ALLEY: There shall be many spear-focused tasties along Asparagus Alley, asparagus ice cream included. Look also for fried asparagus, which sounds like it might be a little bit of crunchy, savory heaven. Live tunes, carnival rides, a petting zoo, and a craft beer and wine pavilion lend the spear scene beyond the eating area further crunch. But, seriously, what would you use as a dip for a deep-fried asparagus? Mayo? Mustard? Melted cheese? Or, ohhhh... asparagus ice cream? That sounds rather tantalizing, in a try-it-once way. We're just content to see the parties celebrating the hearty greens of spring come 'round again (see you soon, Castroville Artichoke Festival).
Copyright FREEL - NBC Local Media