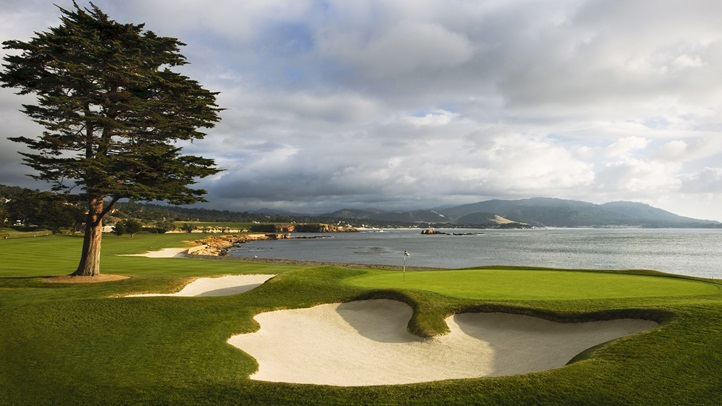 IT'S A GLORIOUS SPOT... that's open all year long, but Pebble Beach truly bustles in the springtime. The splashy celebrity-filled golf tournaments and April's Food & Wine bash have a way of stirring things up around the beautiful burg in a way it typically doesn't get stirred during other times of the year. This is good, because, well, fancy golf and fancy foods -- no argument that those have their pleasures -- but chillaxing on a bluff at a sunset, without any temptations or happy hullabaloo, also has a caboodle of things to recommend it. So visiting the P.B. a little bit after the bustle? It's all about you, the bluff, sunset, a cocktail, and your special someone. Making it easier is the fact that summertime specials are afoot around the resorts, meaning you can plot out Memorial Day Weekend, Father's Day, or the Fourth of July now and then wait on the day to arrive, all the while anticipating.
THOSE SPECIALS... include a few different parts, but some highlights are "reduced nightly rates" at The Inn at Spanish Bay, plus two breakfast vouchers worth fifty bucks -- that's at Roy's and STICKS -- and, you guessed it, some golf play. The deal with that? Sign up and pay for day at Pebble Beach Golf Links, Spyglass Hill Golf Course, or The Links at Spanish Bay and nab "a complimentary round of golf" at The Links at Spanish Bay. Hoo boy. That's a lot of golf, but, you know, once you're out there, above the ocean, soaking it all in, over a late spring or early summer holiday weekend, welp. It's hard to knock off and head back to your room. You've heard golf and Pebble Beach, together, kind of form one united superpower, right?
FOR ALL THE DETAILS... on the Memorial Day, Father's Day, and Fourth of July packages, swing through here, golf-beach-sun-fun aficionado.
Copyright FREEL - NBC Local Media