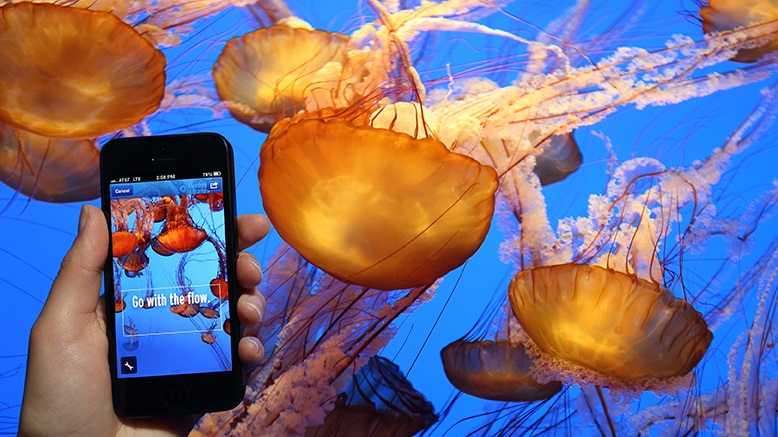 WARM WEATHER + WAVES: Saying the denizens of the oceans don't recognize the seasons isn't at all correct. We only need to look to migrations and movements and what beasties do, year in and year out, at specific times. But do otters know that kids are not in school come June, July, and August? Do seahorses recognize that warmer weather means more people take road trips? Do seahorses know what a road is, really? These are questions best left to whimsy-minded philosophers. Our own task is to consider how an aquarium, that damp destination beloved by out-of-school children and their parents, changes it up come summertime. The Monterey Bay Aquarium does, which is not to say the famous institution doesn't keep the schedule packed all year. But come warm weather? Things fill out off Cannery Row. And helping them fill out nicely? A brand-new (and free) iPhone app.
ABOUT THE APP: It's got the aquarium schedule, so you can keep tabs on the day-to-day stuff, and plentiful photos, too (about 100 in all). And our favorite part of the app? UFO text messages. UFO stands for "unscheduled feeding opportunity," so when you receive one of those texts you'll want to hightail it to the place that is happening. Download it and bone up on the haps before making for the MBA.
Summertime also brings extended evening hours to the aquarium, meaning you can see what the flounder do after-hours. That kicks off -- or perhaps fins off? -- in late June and runs through Sept. 1. A new menu, wine tastings, and jazzy happenings round it all out. Yeah, that feels summery to us, and nope, fish don't know about we humans and our love of chardonnay, later nights, and music come summertime. Or do they? Whimsy-minded philosophers, there is your next puzzle.
Copyright FREEL - NBC Local Media