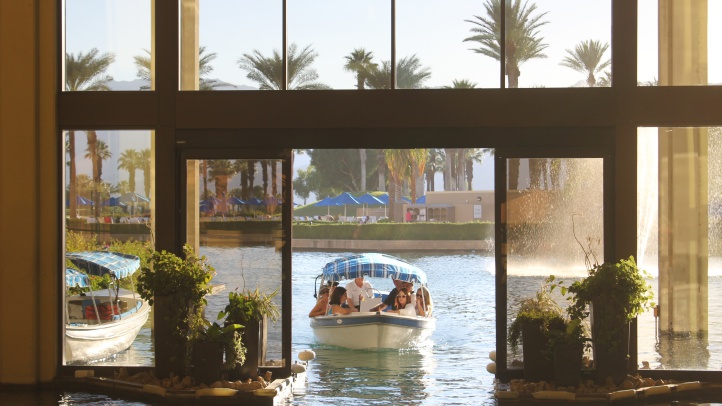 AN EXCITING ROMANCE, it is often and correctly said, can be a wonderfully unlikely happening, full of twists and turns worthy of any overheated screenplay. There are the sayings like "opposites attract" and "meet-cutes," and it seems like everyone knows about a chance meeting, in an elevator or in line at the store, that led to a happy marriage. And in that spirit, the spirit of surprising and unlikely things, there is a chance to ride in a gondola, on or near Valentine's Day, in... the desert. That's the unlikely part, for boats and drier expanses don't seem to be a natural pairing, at least for many people. But at the...
JW MARRIOTT DESERT SPRINGS RESORT & SPA, there is indeed water, and a gondola, and while the expansive hotel invites groups of guests to board the pert vessel, there is a way to enjoy it solely with your honey (and, of course, the captain). Book the Private Gondola Ride & Sunset Toast and enjoy a "private gondola," one that will whisk you and your paramour through the "... Venetian-inspired waterways overlooking crisp desert landscape." A dozen red roses, a bottle of Perrier-Jouet Belle Epoque Brut 2008, and a dig-in picnic basket filled with fancy foods are part of your water-in-the-desert adventure.
INSIDE THE PICNIC BASKET? Look for gold-dusted strawberries, wild mother of pearl caviar, and other notable noshables. If you'd like an extra-super-duper divine chocolate dessert, one that's been hand-crafted, that can happen, too, but you'll want to let the hotel know at least three days ahead of time (ring 760-341-2211). After boating on the property, will you be up for strolling the sizable spread? There are 450 acres in all. For more on the private gondola, the spa offerings, the chance to book private butler service, and more, ring JW Marriott Desert Springs Resort & Spa faster than it takes to devour a delicious, gold-dusted strawberry.
Copyright FREEL - NBC Local Media