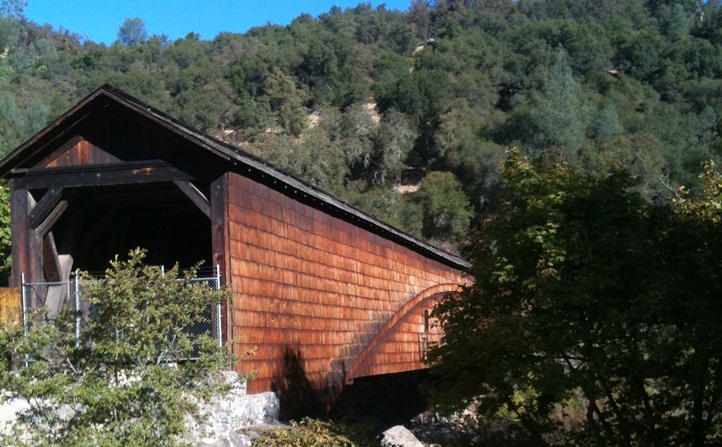 GOLD COUNTRY TRAILS: The story of the Gold Rush in California is a funny one in a way, for it takes place on two fronts: urban and nature. The urban tales talk about the sudden exponential growth of San Francisco and Sacramento and smaller towns that expanded in nearly fictional ways seemingly overnight, thanks in large part to those businesses serving the miners (and not necessarily that everyone was getting rich). But nature is the other half of the Gold Rush tale. Prospectors headed out into the foothills of the Sierra in literal droves in the 1850s and 1860s, leaving their footprints, or at least their stories, in every pocket and canyon and river bend. Nevada County is full of such tales, given the fact that it was very much a hub for Gold Rush action in the day. And while sticking to the urban parts of Grass Valley and Nevada City is recommended and tempting -- fun places, both, -- getting out and seeing the back country is a must.
COVERED BRIDGE: One of the spots day visitors frequently head for is the Bridgeport Covered Bridge. Constructed in 1862, this marvelous structure, which extends over the South Yuba River, is the "longest single span wood arch" bridge anywhere. And it's only one of 10 left in the Golden State, says the site. Nope, you can't cross it, but you can visit and admire.
HIKING TRAILS: The Nevada City visitors site has several recommended trails, including the not-too-difficult Bridgeport Buttermilk Bend Trail. Want to dig deeper into Gold Rush history, and spy some historic flumes? Take the South Yuba River Independence Trail.
Copyright FREEL - NBC Local Media