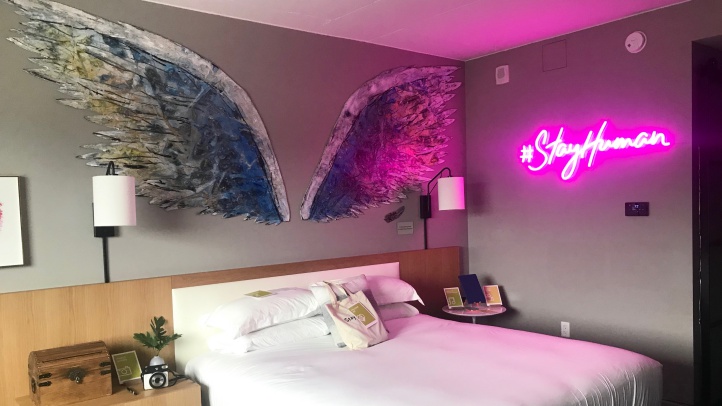 A HOTEL ROOM IS A HOTEL ROOM, surely, or at least that's what many longtime travelers would claim. After all, you're assured that, in many places, your particular room will be like other hotel rooms, from its art to its bed to the placement of the television. And yet? There are those adventurous hotel outfits that seek a more ethereal and esoteric expression of the hotel room, as a concept. And one of the most interesting, and future-forward, is currently abloom in Hollywood, at a destination that is known for some great art, a trendy Tinseltown location, and a dedication to the new. This fresh take on the hotel room is happening at the Kimpton Everly, through the end of November 2018, inside the fashionable property's Room 301. The...
"FIRST-OF-ITS-KIND SOCIAL EXPERIMENT"... is based on "... Kimpton's belief that heartfelt human connections exist between all people — no matter their background or life story." A series of activities and "prompts... designed to spark creativity and encourage self-reflection..." may be found within Room 301, activities that draw out stories guests would like to share, painting a larger and connected portrait of all the different souls who might pass through a single hotel room within a set amount of time. Finding "authentic connection" with people from the past, or, rather, people who've spent time in Room 301 before you, and people after, is part of this new way of thinking about a single space, of time, and what unites us all.
NOVEMBER... is the final month of the Room 301 experiment, and, at its conclusion, Kimpton will take a look at the stories, at each guest's experience within the singular location, and present a larger picture of what resulted. Here's one immediate result: For every guest who stays in Room 301, ten dollars is donated to No Kid Hungry or The Trevor Project (the guest may pick which). Also? There's a 15%-off deal afoot, through the end of November. Also? There's a welcome kit, valued at $200, for those who stay in the room, as well as the chance to sleep under a pair of wings by artist Colette Miller.
ISN'T TRAVEL, after all, a sublime way to connect? And what if you could connect to others who've checked into the same hotel room as you, or who will, down the road? Stay tuned for the intriguing findings, which will roll out down the road.
Copyright FREEL - NBC Local Media