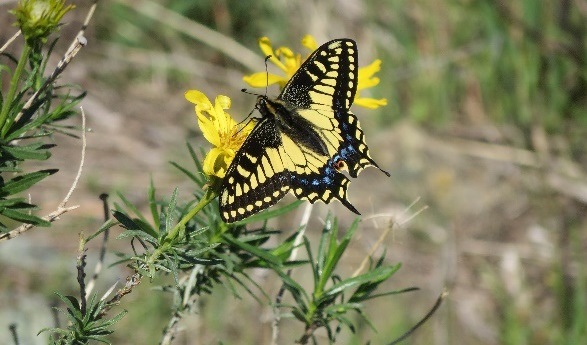 BUTTERFLIES AND NATURE: To say there is but one season to enjoy the beauty of butterflies is to not fully acknowledge that California is home to winged wonders throughout several months of the year, be they the famous Monarchs that include the Golden State as part of their migrations or the many zoo- and museum-based butterfly attractions. Those attractions tend to flutter for a few months in the spring, when many a mind turns to admiring the fabled flying insect among plants and flowers. But if you can't make a zoo-close butterfly attraction, you can go in search of the sweetly poetic insects in the wild. Naturalist David Morris will lead a springtime stroll up Mitchell Canyon Road and Red Road at Mount Diablo. The stroll's goal? To search for butterflies and the flowers they frequent (or, really, just any of the glorious wildflowers that pop up around Mount Diablo come April). The date? Saturday, April 18.
WHAT YOU'LL LOOK FOR: The "common ringlet, mylitta crescent, various blues, whites, and swallowtails." A representative of the Mount Diablo Interpretative Association says that eight to 12 butterflies may be spied, so you are welcome to pack binoculars (oh, and a lunch, given that this is a three-hour hike). It's just six bucks for your vehicle, and free beyond that. The gentle communing with nature begins at 10 a.m. on the 18th.
IF STRAIGHT-UP WILDFLOWERS... are more your game, and you don't mind a nine-mile hike, pen in Sunday, April 26 on your getting-out-into-nature calendar. There's a big search for seasonal buds around Pine Canyon. The seven-hour day'll get wildflower mavens deep into the nooks and dips of the Mount Diablo region, so dress and shoe-up appropriately.
Copyright FREEL - NBC Local Media