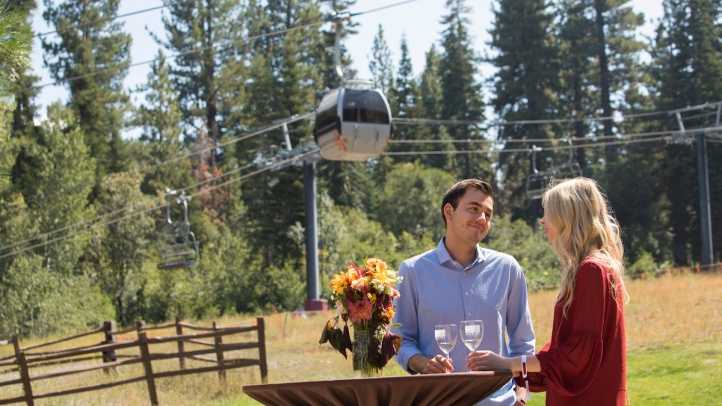 FALL NEEDS NO INVITATION, no door that's been left ajar, no pathway formed from rose petals, no neon sign, no emails asking the season to stop by, if it has a second before it officially arrives. It's going to show up, as it predictably and wonderfully does, around when the last third of September begins, at least around this hemisphere. But there are ways to send out summer in grand and glad-hearted fashion, and to welcome the crisper season while savoring a spirited, cuisine-centered gathering. Look to North Tahoe, where the Autumn Food and Wine Festival will set up the glasses and plates over the final three days of summer 2019. Those days are...
SEPT. 20-22, a Friday through Sunday, and the to-dos during the trio of table-worthy days are delectable. Some of the top-notch-est toque-wearers around the Tahoe area will be attendance, and those that make grapes sings, too. As for the activities? Prepare for "... progressive picnics through the (Lake Tahoe National) forest, vertical wine tasting in a gondola, and long-table dinners." Call these some truly authentic summer-meets-fall festivities, the kind of outdoorsy events that work especially well when there's a hint of chill on the breeze. There are, in fact, "dozens of interactive events" to choose from, happenings that offer an "elevated culinary experience." Northstar California is the bustling, bite-yummy hub of it all, and at the hlem? The North Lake Tahoe Resort Association.
OTHER FAVORITES... of the feasty experience? A Wine and Brew Walk draws those who'd like to try the local libations, while the Gourmet Marketplace Vendor Fair makes it easy to browse a few tidbits you may want to take home. Eager to know more about a day pass or a multi-day pass? The Autumn Food and Wine Festival HQ has all of the tempting to-knows.
Copyright FREEL - NBC Local Media