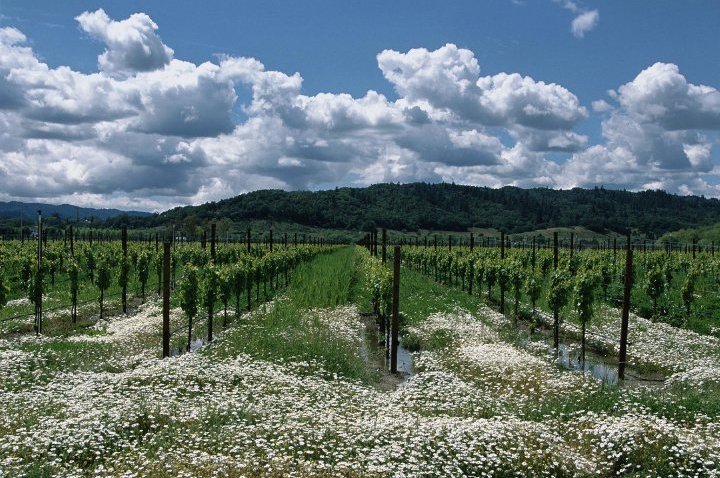 MAKE FOR MAY: When it is early February, and the cold truly settles into being on the bitter side (we know, we know, this is California, but we have some brisker days here, truly, especially about now), one is always comforted by thinking that May is just three months ahead. Everything gets a bit better in May, from summer vacation kicking in to the major music festivals kicking off to all of those mondo wine-tasting weekends that have a habit of falling on some of the most beautiful weekends of the year. We're not sure how the planners do it, but if you've ever been to Napa or Sonoma in May, and walked out of a winery into a vineyard about 11 a.m., you can pretty well convince yourself that you're at the most ideal spot, wind- and weather- and sun-wise, on the entire planet. Alexander Valley, a Sonoma appellation, is not only not immune to these May-sweet charms but certainly a part of them. So when Taste Alexander Valley rolls along about the middle of the lovely month, we recommend the purchasing of tickets.
AND THEY'RE NOW ON SALE: So you can snap up a ticket or two now, put 'em on your fridge, and daydream about those perfect days ahead. Some 30 wineries will participate in Taste Alexander Valley, or just shy of 30, anyway, including Kelley & Young, Soda Rock Winery, and White Oak Vineyards and Winery. Dates are Saturday, May 18 and Sunday, May 19, and weekend general admission is $65.
NOT EVEN JOKING... When we say that May 18 in Sonoma should probably be honored with some plaque that reads "perfect date in the perfect place," you know we're totally not exaggerating, right? This is 100% accurate. If you've been around that time, you know. So keep this wine weekend in your daydreams, even as winter stretches on for another month or two.
Copyright FREEL - NBC Local Media