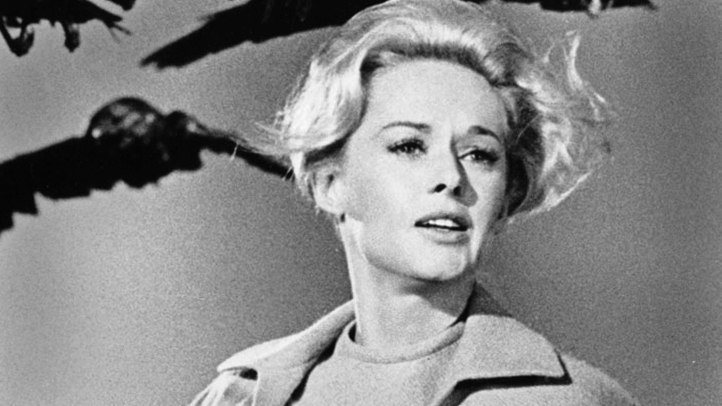 A YEARLY SIGHT: It's a fact that there is no better classic movie costume than Melanie Daniels. Yes, the ice-gray suit Kim Novak rocked in "Vertigo" is up there, but Halloween isn't Halloween without spying someone dressed as the Tippi Hedren character, complete with a few fake ravens pinned to the shoulders. And of course you know the suit's color: apple green. We have a theory that there's an apple green jacket and pencil skirt with a few fake ravens attached to it in about every 23rd or 24th closet, which means this: The Tippi Hedren lookalike parade that's set to go down in Bodega Bay on Monday, Sept. 2 will be pretty amazing.
BUT... It isn't only about Tippi Hedren; Alfred Hitchcocks will be waving from the parade route, too. It's all part of B50, a celebration that marks the iconic film's half-century anniversary. Yep, it is forever associated with gorgeous Bodega Bay, and the places of the 1963 avian horror flick will be much on display. Of course Potter Schoolhouse will be featured; there shall be tours during the day. Visitors can see the church and cemetery, too.
THE FESTIVAL... on Monday is free, though tours are $25. Also, Ms. Tippi Hedren herself will be in town, a fact that is sure to lend a lively air to the festivities. And our favorite bit? A local bird watching tour is on the list of to-dos, as well as the showing of birds by The Bird Rescue. No, you don't have to take cover in a phone booth from these sweeties; they'll be far less angry than the film fowl.
ALSO... there's a Sunday night gourmet dinner at Casino Bar & Grill, if you arrive in Bodega a day early. But definitely be there on Monday, for "The Parade of Tippis and Alfreds." Few towns have held onto their cinematic heritage like Bodega Bay, that's for sure. No wonder that fans continue to costume-up in the green suit, year after year, to pay homage to one of the chillingest chillers of all time.
Copyright FREEL - NBC Local Media