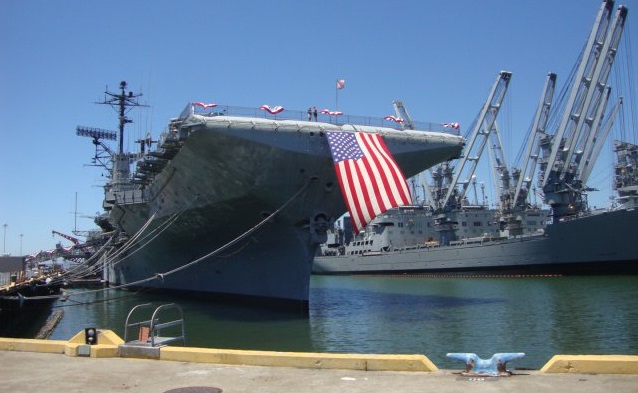 DOCUMENTARY AND TRIBUTE: USS Hornet pauses each year come November to pay tribute to those who have served. But each Veterans Day ceremony has its own distinctions and hallmarks, and the one set to take place aboard the aircraft carrier berthed in Alameda will put a special focus on Carrier Air Group 11, "one of the heroic air groups that flew from USS Hornet CV-12 during WWII." The documentary "Eleven" will screen, which spotlights the surviving members of Group 11 and their World War II missions, and a commemorative wreath toss will be a moving moment on the day's roster. The screening will feature "local surviving members" of the group, in addition to the director, who will be on-hand to meet audience members and share recollections. But reserving a space at the evening-scheduled documentary is key, so call 510-521-8448510-521-8448 x 224 to secure your spot.
EARLIER IN THE DAY: The wreath-tossing ceremony happens well before the 7:30 p.m. documentary showing, so be at USS Hornet by 11 a.m.; the ceremony also includes "a panel of WWII Veterans from Air Group 11." A ribbon-cutting will follow at 1 p.m., ushering in a new on-carrier exhibit about the group. Part of the two-room exhibition will "depict the living quarters of a pilot on-board the Hornet in 1944," lending a look at day-to-day life among members of the squadron.
MORE EXHIBITIONS: The history-filled artifact -- make that very, very large-sized artifact -- is filled with exhibitions that are open throughout the year. The flight deck and hangar deck give visitors a sense of what the duties were among the people who oversaw and worked each, while special looks at the Hornet's history, including its important role in the Apollo 11 mission to the moon, are also a big part of what those who go aboard see.
Copyright FREEL - NBC Local Media