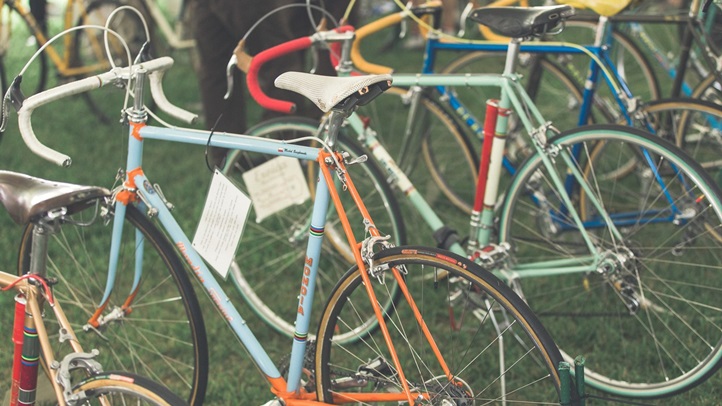 A LOT OF HAY... is made over the vintage bicycle that is often found in the back of the garage, especially on televisions shows that are all about clearing out unused clutter. But here's the truth, and one that can be seen on roads around the Golden State: bicycles with history rule, and are well-loved, and are taken out daily for rides by the devoted cyclists who adore them and care for them. In short? Clutter, they are not.
THERE'S QUALITY ON DISPLAY, and cool colors and gears, and one glance reveals that these moving works of art have some amazing stories to tell. If you're all about your old-school roll, and lifting the kickstand every afternoon for another happy wend around the neighborhood, consider joining other fans of wayback bicycles as they meet up at the third annual Eroica California, a "vintage bicycling event" that finds its inspiration in the Italian L'Eroica, aka "The Heroic." Organizers are expecting around...
1,000 ATTENDEES... at the Paso Robles gathering, which'll pedal through and around town on Saturday, April 8 and Sunday, April 9. There's a festival to peruse in Paso's Downtown City Park, so if you need a part for your bike, be on the lookout (area businesses and food vendors'll be out, too, making it a sort of bikes 'n bites 'n beverages bash). A bike-themed Concours d'Elegance on April 8 is also a centerpiece to the weekend, as is the chance to eye lots of beautiful two-wheelers from the 1980s wayyyy on back (think "early 1900s"). Springtime is when California's big bicycle spectaculars kick the tires and grease the chains, and Eroica California is right up there with them. That the spotlight is on bicycles that are at least a few decades old gives it some retro cred, a few extra good vibes, and definitely crowns it as one of the most picturesque on-the-roll parties around. How long has it been since you've seen a bunch of sweet 1970s-era bikes zooming by in a blur of beauty and hue? It's a sweet sight, whether you're a cycle aficionado or a fan of historic craftsmanship or both.
Copyright FREEL - NBC Local Media