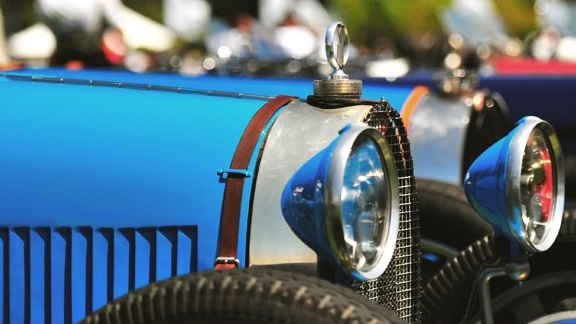 WHEELS WITH A STORY: It is wise to research the purchase of a new vehicle or bike -- you want to know about mileage and warranties and quirks and such -- but getting to know a machine that has decades of history behind it is a whole other road to travel. There's more to learn, of course, but the stories are apt to be richer, too. And while California offers a regular line-up of vintage cycle and car shows, shows that happen practically every weekend, springtime is when owners gleam up their machines and take them out to the larger rallies. Three catching the eye are...
THE QUAIL MOTORCYCLE GATHERING: This annual two-wheeled to-do puts the kickstand down in Carmel on Saturday, May 4. The focus? Motorcycle heritage. Quail Lodge & Golf Club is the location, a location which will also play host to The Quail, a Motorsports Gathering on Aug. 16. Aston Martin will get the spotlight at that late-summer party.
PACIFIC COAST DREAM MACHINES: Half Moon Bay is known for its autumn pumpkin festival -- and it is a biggin', no doubt -- but this auto- and plane-laden confab deserves the "biggin'" label as well. Roadsters, tractors, sports cars, and just about anything that moves on wheels or via wings will make a cameo at the Saturday, April 27 and Sunday, April 28 event.
Worth The Trip
ROAD SHOW REVIVAL: This late spring party -- very late, as in the Saturday of Father's Day Weekend -- just squeaks under the wire before summer begins. We like it because there is a specific emphasis on hot rods and mid-century muscle machines. No surprise: Johnny Cash's music is the focus of the fest. It's vrooming in Ventura on Saturday, June 15.
Copyright FREEL - NBC Local Media