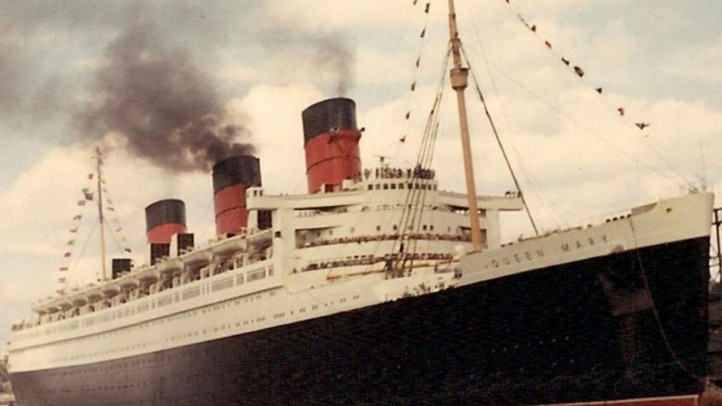 "THE THIN MAN" ERA, REVIVED: You can watch all the Myrna Loy movies you like, and Frank Capra, and Busby Berkeley, but the nut of truth here is this: You won't suddenly appear in some fabulous penthouse, while rocking a set of pin curls and satin mules, back in the New York of 1932. We're not saying to not soak in the cinematic goodness of the time -- Berkeley and Capra and Claudette Colbert and Clark Gable are to be appreciated and revisited, often -- but we are saying that if you want to be a part of that world, for a weekend, then action must be taken. And the clearest path there is the freeway to Long Beach, where the Queen Mary, itself a regal icon of the 1930s, has proudly sat since the late '60s. The ocean-liner, which is often compared, in looks, to the Titanic, but is actually a bit younger and a bit bigger than that fabled ship, is an Art Deco masterpiece. More than that, many of its curves and wood-warm inlays and long promenades remain fully intact. Thus the Art Deco Festival that saunters onto the ship each Labor Day Weekend very much fits the feel and mood of the environment. It is almost like a storied place and the spirit of an era are enjoying an assignation, at least for a few days.
THOSE DAYS... for 2015 are Sept. 4 through 7, and the dress-up doings are plentiful. For sure, architecture and design of the '20s, '30s, and 1940s take a central role, and there shall be tours and talks spotlighting both, both on the ship and beyond. A Gatsby Daze Garden Party will feature "chart toppers" of the 1920s courtesy of the Crazy Rhythm Hot Society Orchestra. A Sunday Tea Dance, a Grand Art Deco Ball, and other social confabs will give you ample opportunity to put your hair in pin curls or throw on the ol' tuxedo. As for the Friday night Deco Pajama Derby? That's become legend over the festival's 11-year run. People gussy up in shimmery '30s-style nightwear and "race" tiny horses while, we expect, being extra droll and sipping cold, cold drinks.
BOOKING A ROOM... and tickets and all that jazz? Best do that sooner than soon. The '30s were long ago, but Labor Day Weekend 2015 will be here as fast as it takes Myrna Loy to deliver a zinger in any screwball comedy of the era.
Copyright FREEL - NBC Local Media