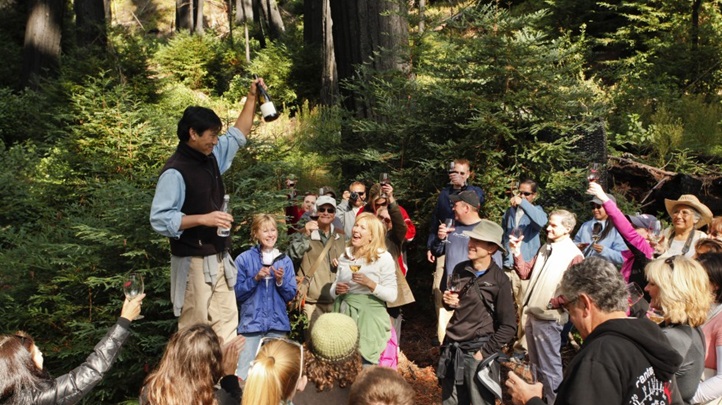 BEYOND THE MIND VISIT: Thank goodness daydreaming is free, and we don't have to pay a toll every single time our thoughts alight upon a favorite destination or a favorite pastime. We have a sense that spots like Pfeiffer State Park and Esalen and other Big Sur locations and retreats would stay mighty busy hosting all of the mind-wandering daydreamers, as the area makes for prime daydream material. As do the wines of the area, and the foods as well. Put together? Location and lunch? Big Sur, the nature-beautiful place, and Big Sur, the delicious foodie gathering spot, makes for a potent daydream subject matter and a desired real-life one, too. And the real-life end of Big Sur devotion gets a significant boost come November, when gourmands, winemakers, winethinkers, chefs, nature ramblers, and Big Sur aficionados gather for the Big Sur Food & Wine Festival. Visualize four days of walks and wine-tastings and vista-enjoyment and socializing and the savoring of suppers made with bravado and zest.
THOSE FOUR DAYS... are Thursday, Nov. 6 through Sunday, Nov. 9, and the regional places on the roster are a who's who -- or a where's where, rather -- of Big Sur classics. The Henry Miller Library will host the Saturday night Dinner with Friends, Pfeiffer State Park has the Auction Experience and a Grand Public Tasting, a Tuscan BBQ at Big Sur Roadhouse, and a Paul Lato Winemaker Dinner at Esalen. Local top toques from Deetjan's Big Sur Inn, the Esalen Institute, and more major spots -- major both locally and on the wider foodie scene -- will be preparing the fresh-fresh-fresh eats (you can bet seasonal/local'll be two of the bywords). As for the vineyards? Big Basin, Banshee Wines, and Wind Gap Wines shall be the sparkling libations in many of the tasting glasses.
AS FOR TICKETS? They're a la carte, so pick what you want to do (and pick soon -- events do sell out). As for the setting? The web site says it best: You're in the land of "roughed coastline," the ultimate daydreamer's go-to. That there's a gourmet angle to it all, and that you'll really be there, is the cherry on the lovely icing.
Copyright FREEL - NBC Local Media