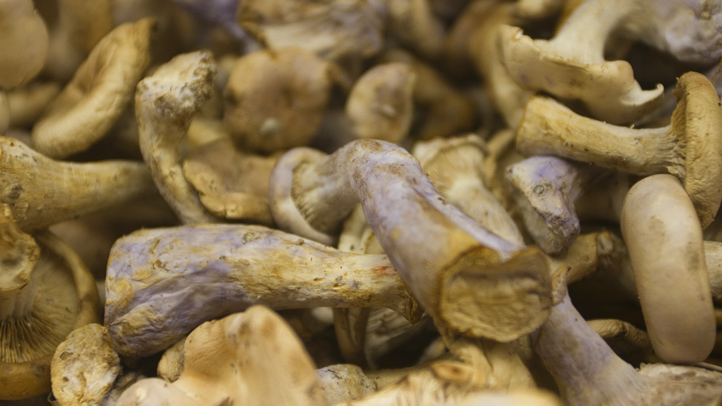 DAMP IS GOOD: While many things grow and bloom with sunlight, drier air, and a lack of rain -- prickly pear, we're looking at (but not touching) you -- the mushroom is not one of those things. Famously, right? We want our little capped chanterelles and knobby polypores to grow and thrive in moisture-rich muck. Which means a late February celebration of all things fungi feels exactly right. Brisker, wetter days lend much to successful shroomery, and a big slice of that will be on display around Healdsburg on Saturday, Feb. 23 and Sunday, Feb. 24. It's the Healdsburg Mushroom Weekend, which coincides with "the peak of wild mushroom season in Northern California."
ON THE MENU: Several local Healdsburg eateries will be mixing in mushrooms. Barndiva will offer a wild rabbit fricassee with wild chanterelles being a chief ingredient. And to follow? A special mushroom ice cream. Jimtown Store hopes to do a porcini popcorn. And Moustache is going the mushroom macaroon route. Hmm, interesting.
WILD MUSHROOM FORAY: You can also head "into the hills above Healdsburg" to do some quality foraging with chef Elissa Rubin-Mahon. That's happening on Saturday, Feb. 23.
AND IN SEBASTOPOL... they're getting into the mushroom groove, too, and over the very same weekend. Soon it could be a NorCal-wide thing, come late February. The all-restaurant celebration of that true workhorse of so many hearty homey meals. The fungi we turn to when we need meaty without the meat. Why shouldn't there be a full shroomification of local restaurant dishes come the close of winter? In a word, yum. In another word, gills, which is probably our favorite mushroom-related word.
Copyright FREEL - NBC Local Media