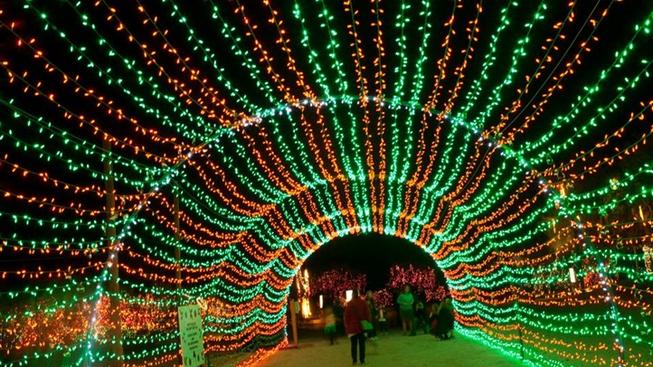 DESCRIBING THE CONCEPT OF "NIGHTTIME"... in the desert? "Incredibly low-lit" works, depending upon the amount of moonlight you're dealing with, while "velvety" and "atmospheric" lend poetry to the shadow-filled situation. "Seen only by the stars" further adds oomph, but whatever words you put to a desert night, the fact is this: It is going to be quite dark, if you're away from a city or town, or, truly, even if you're not that all that far. For these great expanses can seem almost like different planets, especially after the sun says farewell for the day, and the depth of the no-light-a-tude can even astonish a lifelong desert dweller, now and then. But then...
A MILLION-PLUS BULBS... being to glimmer, as if by magic, and a desert destination is transformed into something rather twinkly. No wave of the wand is behind this, but a lot of hard work and long hours on behalf of staffers at The Living Desert in Palm Desert. For this is the place where WildLights blooms each November-into-December, each year, and has bloomed for over a quarter century. The eveningtime illumination, which indeed boasts bunches upon bunches of magnificent bulbage, is a treat for those looking for a way to stroll outside, in a desert setting, near snoozy animals, when evening settles in, with lots of lights to lead the way.
AND THE LIGHTS DO, with the "... popular tunnel of lights flashing to holiday music" serving as one must-see, but there are others. Admiring "... a herd of life-size, luminescent animal lanterns"? That can happen. Spying G-scale moden trains done up for the festive season? You bet. There are keeper talks, warm food for purchase, and beverages, too, all to add cheer and charm to this annual desert adventure of the most incandescent sort.
WILDLIGHTS... lends dazzle over several select nights, beginning Nov. 23, 2018.
Copyright FREEL - NBC Local Media