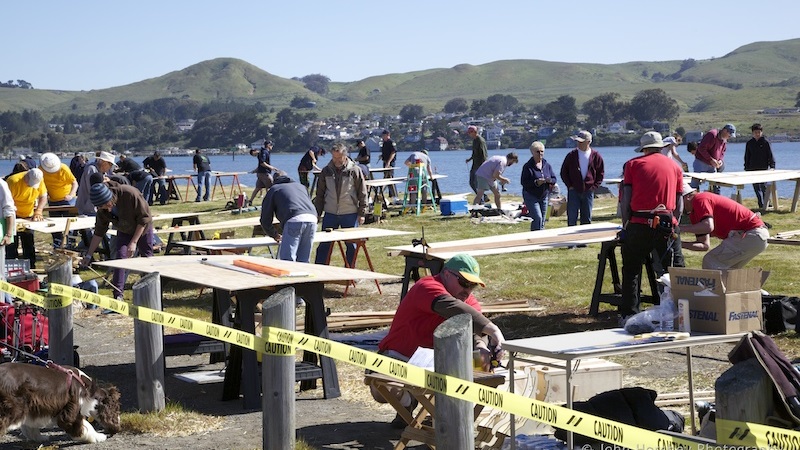 ONE UNIQUE COMPETITION: If you've ever been to a weekend festival of any sort, you know there are competitions aplenty. Oh, they might include who can devour an entire lemon pie the quickest or who can build the best paper airplane. But few contests ask people to build a boat -- and not a toy boat but a boat for holding people -- in the course of a few hours and then sail it to prove it is sea-worthy. Or perhaps we should say Bay-worthy. The annual Bodega Bay Fisherman's Festival does indeed hold such a unique contest, and it brings out the builders and spectators in full force.
WE KNOW... Most ocean-close weekend parties with "fish" in their names tend to be about consuming copious amounts of fried shrimp and other seafoodie delights, and that is definitely a part of this Saturday, April 27 and Sunday, April 28 confab. But other happenings, like the Blessing of the Fleet and the boat-building competition are memorable complements to the consuming of chowder.
40 YEARS ON: This to-do, which traditionally marks "the start of the Salmon fishing season," honors all of those people who work on the water. It's a nice and longtime doing, because figure that most ocean-close fests tend to focus on the food and not the people who fish for the food. There aren't many events where this all-important role gains the spotlight. The famous Wooden Boat Challenge is on Saturday, April 27, but you'll want to cast a line for several goings-on dotting the briny weekend.
Copyright FREEL - NBC Local Media