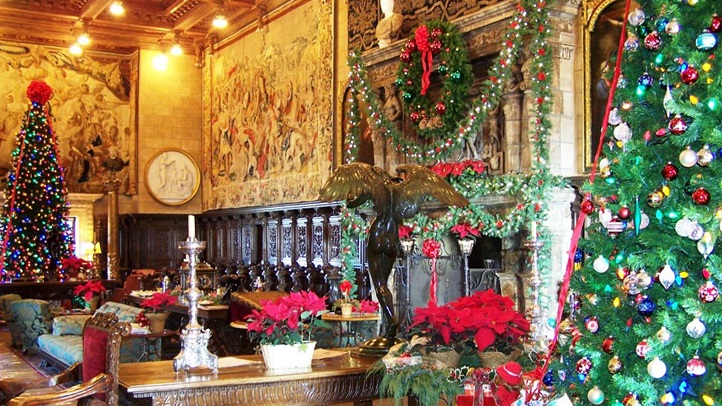 BEYOND THE BOX OF BULBS: While some of us may grumble, good-naturedly, about having to go drag the box of holiday decorations out from the storage room, we know it isn't that big of a deal. Sure, detangling a string of lights takes a few minutes, and you're liable to come across a cracked glass ornament or two. But generally, everything can be done in an afternoon, and if you're a very, very festive household, a day.
NOT HEARST CASTLE, THOUGH: Nope. There's no unknotting a few strings of bulbs, draping them over the front door, and calling it a day. The annual festooning of the San Simeon landmark -- a castle that is truly a castle, in name, yes, but in stature, grandeur, and all of the words that end in -ure and -eur -- takes a few weeks. The hanging of the boughs, and of the everything else, stretches from Nov. 12 to Dec. 1 in 2013, meaning that if you show at Enchanted Hill in December, you'll get to enjoy what has to be one of the most carefully decorated buildings in all the land, or at least the Golden State.
ON THE WALLS, TABLES, TREES: "(L)avish handmade decorations of hand-made garlands, brilliant red poinsettias, and two 18-foot Christmas trees fully decorated with lights and traditional ornaments" will be on display in various castle rooms during the month. Yes indeed, that sounds frankly festive to us. Want to check 'em out? Get on the Experience Tour. Just be prepared to view that string of tangled lights at the bottom of the decorations box in a whole new, more forgiving light.
Copyright FREEL - NBC Local Media